Doctors within borders
How creator Joseph Kay and the Transplant writing team are breaking new ground with the Canadian medical drama and ratings hit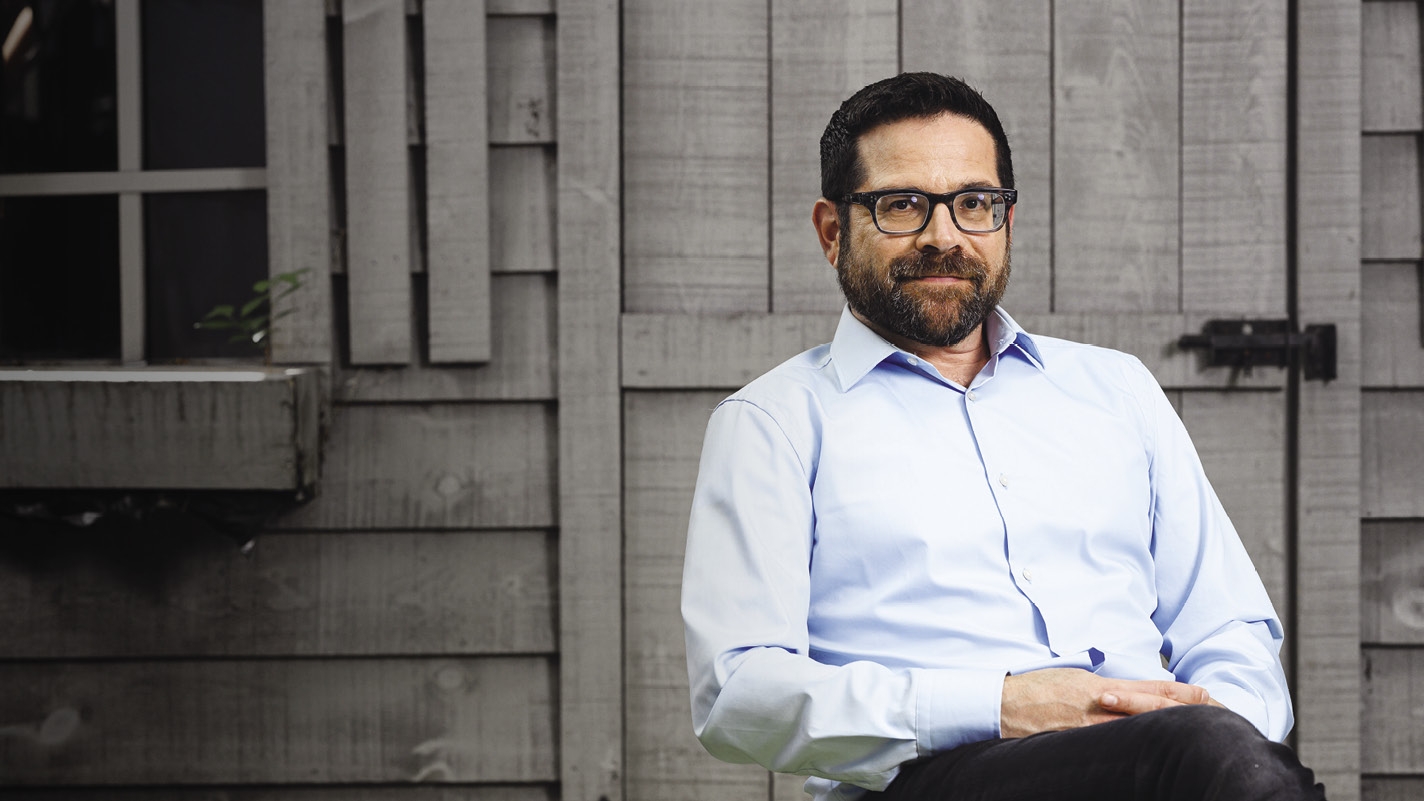 By Matthew Hays
Joseph Kay begins our conversation with a bit of philosophical wisdom that perhaps only a screenwriter could conjure up.
"You work as hard on the things that nobody sees, as you do on the things that people do sees. So, it's very rewarding when people see the things that you do."
As luck would have it, his latest project is providing lots of rewards. Transplant — the CTV medical drama he created and has served as showrunner on for two seasons — premiered to that dreamed-of combination of strong reviews and solid ratings in Canada in the spring of 2020. And then, the disruption in TV production caused by Covid-19 presented the show with a bit of inadvertent luck when NBC began broadcasting the show stateside last September.
Buoyed by glowing reviews (The Wall Street Journal's John Anderson said it would "make its debut as the best medical show on American television"), Transplant achieved simultaneously stronger-than-expected ratings in America and on its home turf. And as the season unfolded, word of mouth kicked in, meaning audiences grew. Then came the 2021 Canadian Screen Awards, where it netted several statues, including Best Writing for Drama for Kay's pilot episode and Best Drama Series. For his part, Kay says he knew the show had really left its mark when it became the subject of a Jeopardy! question. Not surprisingly, both CTV and NBC have signed on for season 2, with shooting now wrapping up.
The show, produced by Sphere Media in association with CTV and NBCUniversal International Studios, is turning out to be as resilient as its central character. Transplant stars Hamza Haq as Bashir "Bash" Hamed, a Syrian refugee who is trained as a doctor but can't practice in the Canadian hospital system because he wasn't schooled here. That all changes in the pilot, when the restaurant Hamed is working in is hit by a truck, which causes a devastating accident. Though seriously injured himself, Hamed leaps into action and saves several lives, including that of a doctor at a Toronto hospital. This harrowing first episode is both a trial by fire and an audition of sorts for Hamed, as the doctor whose life he saves champions him and insists he gets hired to work in his hospital. Despite the legal barriers, Hamed is hired to work in the emergency ward at fictional Toronto hospital, York Memorial.
Transplant is noteworthy for various reasons: It is a taut medical drama with a distinct ensemble of characters, but it is being singled out in particular for its representation of a Syrian Muslim refugee as its protagonist. Kay says the idea came to him in 2016, when the election of Donald Trump had brought numerous issues to public consciousness, including anti-refugee and -immigrant rhetoric.
"At the time there was a lot being written about the Syrian war and Syrians in Toronto," Kay recalls. "We wanted to collaborate on a medical drama. The one that had been airing on CTV, Saving Hope, was coming to a close, and we liked that format."
Kay was also keenly aware that many refugees, even those who are highly-trained in professional fields like medicine, had trouble securing work once they arrived in Canada. "It's very difficult for doctors who are trained overseas to get a residency," says Kay. "In confluence with all of these other things in the air — the number of Syrians who were coming to Toronto specifically — things came together as a concept. No one had done a drama like that — with someone who had been a qualified doctor somewhere else and needed to start again — at the centre." He admits that it just seemed like a topical, human character-rich thing to explore and the show became a journey of "who this guy was and how to tell his story."
Kay set about writing the award-winning pilot, which he saw as a dramatic launch to the series. But that episode was quite literally so explosive, it created a dilemma for the episodes that would follow. How could the writers maintain the momentum, while remaining true to the show's roots? Subsequently, Kay has likened the pilot to an action movie, while the entire show is more of a drama. 
"I'm always reading pilots and trying to study them and figure out how the great ones do the things they do," he says. "A pilot presents a story, then the series continues to retell that story, and in a very elegant way. It's really hard to figure out how the writers did that: How are they retelling the story? How are they continuing to touch on the pilot in the series? How did the pilot become the premise statement for the series? Figuring that out was a long process. You see [Hamed] take bold action in the first scene, and then he gets the opportunity in the pilot, and you figure out how to continue to tell that story narratively."
The key for the writing team of Transplant is the exploration of Hamed's multi-faceted character. He is a Syrian Muslim doctor, but he's also a refugee who fled a war-torn country, so he is suffering through significant trauma while also parenting his younger sister, who has escaped to Canada with him. At the same time, he's got a strong, resilient personality. So, for Kay, the challenge is making sure that strength is present all the time. "How can we keep him a really interesting character, not simply becoming just a doctor by episode two? Over the first season, we learned to do it."
Several consultants and writers who identify with Hamed's character, in terms of ethnicity, culture, religious beliefs and lived experience, were on-board to craft the series. Sami Khan served as a story editor and co-wrote one script in season one, and in season two, he serves as consulting producer and has written one script. "Unless the character was specifically Arab and a practicing Muslim, I wasn't sure what made the show different," says Khan. "And Joe [Kay] agreed. So, I would annoy him and pitch him and persuade him that if we don't see an episode early on where he prays, we probably weren't going to see that, so we needed to do that early on. I think that was important to Joe. For a Muslim creative, that's what you want in an ally."
Khan says the breakthrough representation in Transplant was always seen for what it was, an exciting set of opportunities. "There are the important identity elements for me, but also, no one's seen a character like this before, so from a storyteller's perspective, we could be bold, we could break ground. So, why not go for it? Why not see a Muslim character pray? Why not make it have nothing to do with terrorism or violence?," says Khan. "He's a doctor that you might see at 
a hospital in Toronto or Montreal. For me, there was no point in writing this character unless he was explicitly 
Arab and Muslim."
The Muslim themes in the show included an Eid episode, in which Hamed observes the festival and its rituals. "This allows us to deeply follow his journey," says Khan. "And this has opened more up for us in season 2. It means revealing deeper layers, not just about his psyche, but about his experience. The conflict in Syria, the civil war and the atrocities of the Assad Regime give no shortage of things to draw from. I'm not Syrian, but we feel a responsibility to make sure that we're staying true to the experience of Syrians, for the suffering they've had to endure, not even just recently, but for many decades. Our character is dealing with trauma on an ongoing basis."
"The challenges of writing a show like this seem likes ones you'd face on most shows," says Carmine Pierre-Dufour, who wrote for both seasons of the show and also serves as a story editor. "It's about finding a voice, and a rhythm. But the refugee and Muslim elements meant we were being especially attentive to detail. Writing and shooting during Covid, of course, also presented very distinct challenges. The usual writing-room process was dramatically shifted, much of it happening on screens."
Keen attention to accurate details led to bringing Kitchener-based playwright Ahmad Meree on board, who is a Syrian refugee. "This presented us with challenges, but for me, it has also been an incredible responsibility," notes Meree. "I knew that many thousands of people, perhaps millions, would be watching the show. Some of them would be refugees, like me. I wanted them to see themselves presented accurately in the series. I knew also that there would be many people watching the show who would not be Muslims, or not know any refugees. They might be people who have very negative attitudes towards refugees or immigrants. A show like Transplant might change their ideas about that Syrian neighbour they have, or that refugee who works in their local store."
Meree's notes on scripts were very specific. "In some episodes, Hamed's younger sister attends ESL [English as a Second Language] classes," Meree recalls. "In the original draft, the sister is taking a class that has children and adults in it. But I know from my own experiences taking such classes that adults and children are taught separately. They changed it. It might sound like a minor point, but I felt it important to stick to how it would really play out."
Meree also contended that Hamed's sister's English was too good. "I pointed out that it was okay for her English to be rough. Her English should sound more like someone who is still learning it. They also had a different last name for the central character, but I suggested Hamed, as the one they had didn't sound like a common Arabic last name."
Sphere Media VP of development and EP for Transplant, Tara Woodbury, says she knew the show would have appeal due to its genre, but that she also liked that the show had its own distinctive edge. "Procedurals are so popular in Canada," she notes. "We knew we wanted to reach as many viewers as possible. But accuracy being key, that meant giving the writers a lot of space. That can be tough, as there's pressure to get things done on a tight schedule. But if the writers needed more time to work on something, we made that space and time. It was about making that time for the writers."
The other thing that was key for Woodbury was that the central figure would be a hero; not perfect, but not someone with a dark sinister secret. "Obviously, recent trends in hit TV shows are that the protagonist must be an anti-hero. There's got to be some terrible thing the person has done or is doing," she observes. "We consciously worked against this pattern. We wanted audiences to root for him. We have a responsibility to think about the impact of the stories we tell. Some might argue a Muslim lead character is a risk. But it's why I wanted to do this show. I'm so proud that audiences have embraced it."
Khan also liked the idea of a Muslim Arab central character who did not reflect stereotypes. "I know that Joe really values writers, consultants and directors who don't think conventionally, those who have different approaches and have followed different paths. Stereotypes are just bad writing. If you want to be a good writer, whether you're Black, brown, Asian, a woman, queer, you want to get away from stereotypes. The push for better representation shouldn't be seen as any kind of threat, it's actually about becoming a better writer. It's about including those perspectives."
While the writing team was mum about story-arc specifics for season 2, they did say that events in the news did have an impact on their writing. When the show was first conceived, Canada was being held up as a kind of multicultural paradise, in part because of its reception of thousands of Syrian refugees. One New York Times story in particular praised Canada effusively for its open arms ("Refugees Encounter a Foreign Word: Welcome," read the June 30, 2016 headline). But on June 8 this year, a Muslim family in London, Ont. was struck down by a man in a truck, in what police reported was a premeditated hate crime. Four members of the family were killed. The story made headlines around the world. As Muslims of colour, both Khan and Meree say they were deeply shaken by the attack.
"Even before that attack, we had talked about making sure we didn't present Canada as a perfect place for immigrants and refugees of colour," Khan says. "We wanted to keep it real. Americans often see us as this paradise, and I think sometimes Canadians then delude themselves into believing that. Canada has done a really good job of selling itself to the world, and selling itself to its own citizens. I don't think we're any better or worse than the United States."
"I've had people say racist things to me on the street, and it wasn't very pleasant," recalls Meree. "London isn't that far from Kitchener. People have to keep in mind, refugees didn't choose to have a war in their country. It wasn't a choice. Many of us were fleeing for our lives. Maybe a show like this can help to change their minds."
"Canada has long had a reputation as a tolerant place," says Kay. "And I think much of Canada is tolerant. But there's also intolerance here, and that's something we explore in the show. We have raised those issues in season 1, and we have found ways to continue it in season 2. There are no direct references to the London attack though, as it happened quite late in the shooting of this season."
Finally, those involved in the show's writing say they are impressed with how many different levels Transplant manages to work on. "It's a medical procedural, and it's about a Muslim refugee," says Co-EP Rachel Langer, who has written several episodes. "Each episode sets up a series of the best kind of challenges. How are we going to explore what the characters on the show are going through? Yes, it's about medical emergencies, but it's really about the emotional truths of the characters. The first season was about finding out how we would write the show. Now it's about finding something new to explore. I would say this is the most involved I've ever been on a show I've worked on. I realize it's not just about the words we're putting on the page, it's about giving those experiences the justice they deserve."
Langer pauses, as I ask her about the success of Transplant. "The feeling of us working together, all of us, has been tremendous. A writers' room has been created where we can really delve into these issues. Awards are lovely, but when people say that they're affected by something you've written, there's nothing like it." 
"I've tried to keep the writers' room a very open place," adds Kay. "We've shifted gears a bit in the second season, but keeping things authentic has been really important. We have tapped into a lot of our writers' own personal stories. I think that's why the show has reached so many people."  
A longtime contributor to Canadian Screenwriter, Matthew Hays has also written for The Guardian, The Globe and Mail, The Toronto Star, The New York Times and Vice.