Criminal Effect
Writing true-crime doc/drama hybrid The Detectives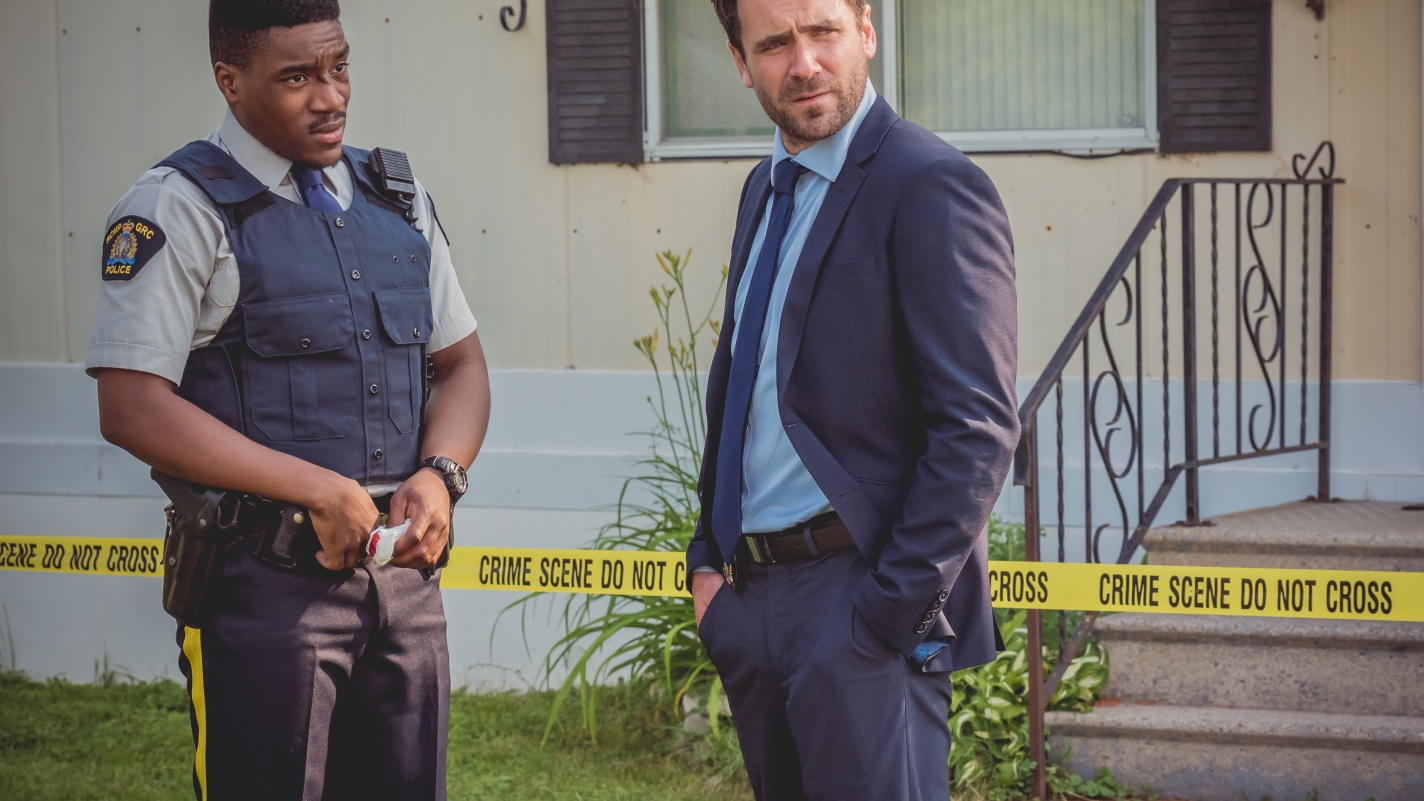 By Matthew Hays
Petro Duszara realizes the statement sounds mysterious. But he says it with such conviction, it's impossible not to believe him.
"I have mixed feelings about good reviews and awards," he says, referring to the success of The Detectives, the hit CBC show about true crimes and their subsequent fallout, now in its third season. "The content is really, really heavy," he continues. "We spend a lot of time with cops and families of victims. Of course there's a sense of pride, but the praise is always tempered by the fact that the show is not fictional. 'This is real' runs through your head. There are mixed emotions."
The Detectives is noteworthy for its success (it's a multiple CSA nominee), but also due to the fact that it's one of the only true crime shows Canada has ever done. Which does seem odd, given that the genre has exploded on American screens, and that Canada is famous for its keen documentary film and TV-making skills.
Duszara has a background in true crime screenwriting, including penning episodes for the series The Case That Haunts Me and Real Detective. But he makes a confession worthy of one of the plot twists in a Detectives episode as we speak: "I'm not really a true crime guy," he says. "I don't really watch true crime shows regularly. I appreciate them when they're well done, The Wire being a great example.But I don't seek them out."
So, how on earth did a nice guy like Duszara get mixed up in the genre? As it turns out, there's a family connection. "My sister's father-in-law is a retired homicide detective. He also worked with the military," he admits. "At one point at a family gathering, I just said to him, 'You're a cop, you must have some crazy stories.' He's this six-foot-tall guy, a big guy, but very lovely and jolly. And as he opened up, I realized that he carries all of this dark stuff with him, wherever he goes. It's not like he can turn it off."
That led Duszara to realize he had a show on his hands. "I thought about a true crime show from the perspective of the investigation. What are the consequences of violence? What impact does it have on families of victims, and on investigators?"
Duszara says inspiration for episodes comes from a broad range of sources, including crime reporters in different cities, contacts at the RCMP and various police departments, crime books and victim support groups. "Each episode is quite different from the others in terms of how we came up with the idea and how the research followed," he notes.
Duszara says a central challenge is being true to the story, while making things fit into a 44-minute time frame. "It's about figuring out what you have room for," says Adriana Capozzi, who has written several episodes of the show. "We may use composite characters or change something, but it's about remaining honest and faithful to the story."
"It's about taking the case and then breaking it down into a story," adds Duszara. "There are always dozens of red herrings. You can't include all of them, there's just no way. We interview the detective, then we shoot and edit the drama. Then we shoot the actual documentary part. It seems counterintuitive, but it works best that way — we then know what we need from the detective."
The show's hybrid format proves trickier. "The interview with the detective has to be worked into the final cut," says Duszara. "We don't want the detective to be too present, but you want them to be present enough. Shifting gears is always tough." The hybrid nature of the show makes it really complicated, he contends. "Drama writers usually operate in fiction, and documentary culture is very different. Fiction writers come up with great ideas, but this show has to involve facts. That said, the hybrid form is what keeps The Detectives challenging and exciting."
Some of the details that need adjusting are due to matters of privacy. "A person's name might not be in the public record, in particular witnesses," Duszara notes. "In some cases we may change names. Or if a person is an Asian man, we may change that person to a white woman. It's about protecting identities. In some cases, the police may not want to share all of their procedures. The hope is to keep the essential story intact and true, even if some details are not revealed."
And some police work, Duszara concedes, "is incredibly dull." It turns out that investigating a case or cases can be a long, laborious process, and that doesn't necessarily lend itself to engaging drama. 
Inevitably, screenwriters working on true crime series report that it takes an emotional toll. They are, after all, conducting extensive interviews with people whose lives have been touched by violence, often with fatal, irreversible results. When Capozzi began work on The Detectives, she had just completed the intensely demanding writing of the eight-part miniseries Unspeakable (2019), which told the stories of Canada's tainted-blood scandal, when thousands of Canadians were infected with HIV and Hepatitis C in the '80s and '90s. "I learned a skill set with that show, of writing drama, but reality-based drama," she says.
That meant asking to avoid having to write certain kinds of episodes when she joined The Detectives writing team. "That project took a lot, as I had spent a lot of time reading about children dying of AIDS. So, I asked that any script I would be working on would not involve murdered or raped children," admits Capozzi.
She says a gratifying part of doing the research was interviewing the detectives, "who are usually so kind and generous with their time, that part of the process was pleasing and fascinating." But during the research process for the second episode of season three, "Out of Lies," Capozzi acknowledges being overwhelmed. The episode tells the story of the police cracking the case of an elderly Lethbridge woman who was brutally murdered.
"Overall it wasn't a difficult episode to work on," she recalls. "But yes, a moment did take me off guard. I was talking through the case with two lovely and extremely helpful homicide detectives, and without warning, suddenly found myself looking at graphic crime scene photos. Up until that point, I was thinking about the case mostly in story terms — focusing on the facts, suspects, and the turns of the investigation. But in that moment, the brutality, horror and devastation of the crime became very real for me. Suddenly, I'm looking at a bludgeoned head."
Still, despite the bump in that particular bit of research, Capozzi says The Detectives has real value, both as a dramatic series and as historical record. "It's very important that these stories and the victims are never forgotten. Minorities and women are often vulnerable. We tell those stories and show how detectives solved certain complex cases."
For screenwriter Eric Sabbag, his most powerful experience working on the show came when he was interviewing the family members and detective involved with a crime that inspired the fourth episode of season two, "Jackie." The brutal details of the story involve the kidnapping and murder of an eight-year-old girl and the subsequent investigation. "I went out to New Brunswick and met with Jackie's mom and stepfather and the detective," Sabbag recalls. "The parents and detective had not talked since the case in 1995. The officer had PTSD as he was so traumatized by the case. He would repeat over and over how guilty he felt about not communicating with them since then. They forgave him, and they shared a poem Jackie had written, which we included in the episode."
Sabbag says one of the show's key strengths is that it is never exploitative. "Yes, the show is entertaining, but it's a crime show that doesn't feel dirty. It never glorifies crime. In fact, we don't show crime depicted — it is related by description."
And Sabbag says one of the main reasons for that is the exhaustive research process the writing team employs for each episode. "The police and family members respect the process. A common request is that we keep it truthful, which of course we do. My experience has been that the families don't want sympathy, but they do like an ear. Many survivors say they experience isolation after a horrific crime like some of the ones we get into. People in the community may feel like they don't want to pry, so once they have paid their initial respects, pull back. People can then feel like they never got to mourn their loss fully. So when they are asked to remember their loved ones, they often open up at length, and it can be very cathartic for them."
For Duszara, episodes four and five of season three presented an especially delicate set of challenges, given that they are based on the serial killer Bruce McArthur, who murdered at least eight gay men in Toronto. "In this case, there had been a lot of criticism of how police handled the crimes. Activists felt the police had dropped the ball. It's important for us to show that the police aren't perfect, which they clearly admitted to here. There was a lot of humility on the part of the investigators. This can't just be a show from the perspective of police alone.
"It was also important for me to acknowledge my blind spots, as this isn't my community," Duszara adds. "So that meant making sure we had done our research, going to the 519 [Toronto's LGBTQ community centre] and going to places like The Black Eagle [a popular bar in Toronto's LGBTQ village] to get a sense of what members of the community were feeling in the wake of the crimes."
In the writers' room, Duszara says support is an integral part of the process. "We check in with each other regularly. When you get really into a case, it's not unusual to shed tears. We have a psychologist around in case anyone needs to talk to someone about what they're experiencing. Obviously, we are sensitive to the fact that this is very heavy material. You do have nightmares. It's important to be there for each other."
Jennifer Dettman, the executive director of unscripted content for CBC, says one of the reasons they were drawn to the show was its authenticity. "Each episode features a detective talking about why a specific case has stuck with them. You get a sense of the vulnerability of the investigators. There's a lot of true crime TV out there, but not a lot in Canada. I feel like a great deal of the success of this show is the fantastic group of writers they've assembled."
And Dettman adds that "the writers have managed to avoid sensationalism and a sense of exploitation, which is no easy thing. What parts of the story would be shared? This was always key to us at the CBC, to always be respectful and not gratuitous."
Duszara says the ultimate goal of The Detectives is "to show audiences, as clearly as we can, what detectives go through when they are investigating these cases. And what families experience. We also want the police to see that what we're doing is accurate, while never cheerleading. Because what detectives do and what families go through is extreme.
"Part of the sensation of writing the show is what I suspect audiences are also experiencing — these things, these horrible, unforgettable things, can and do happen."