Fake news. Real laughs.
How The Beaverton is sharpening its satire and growing its reach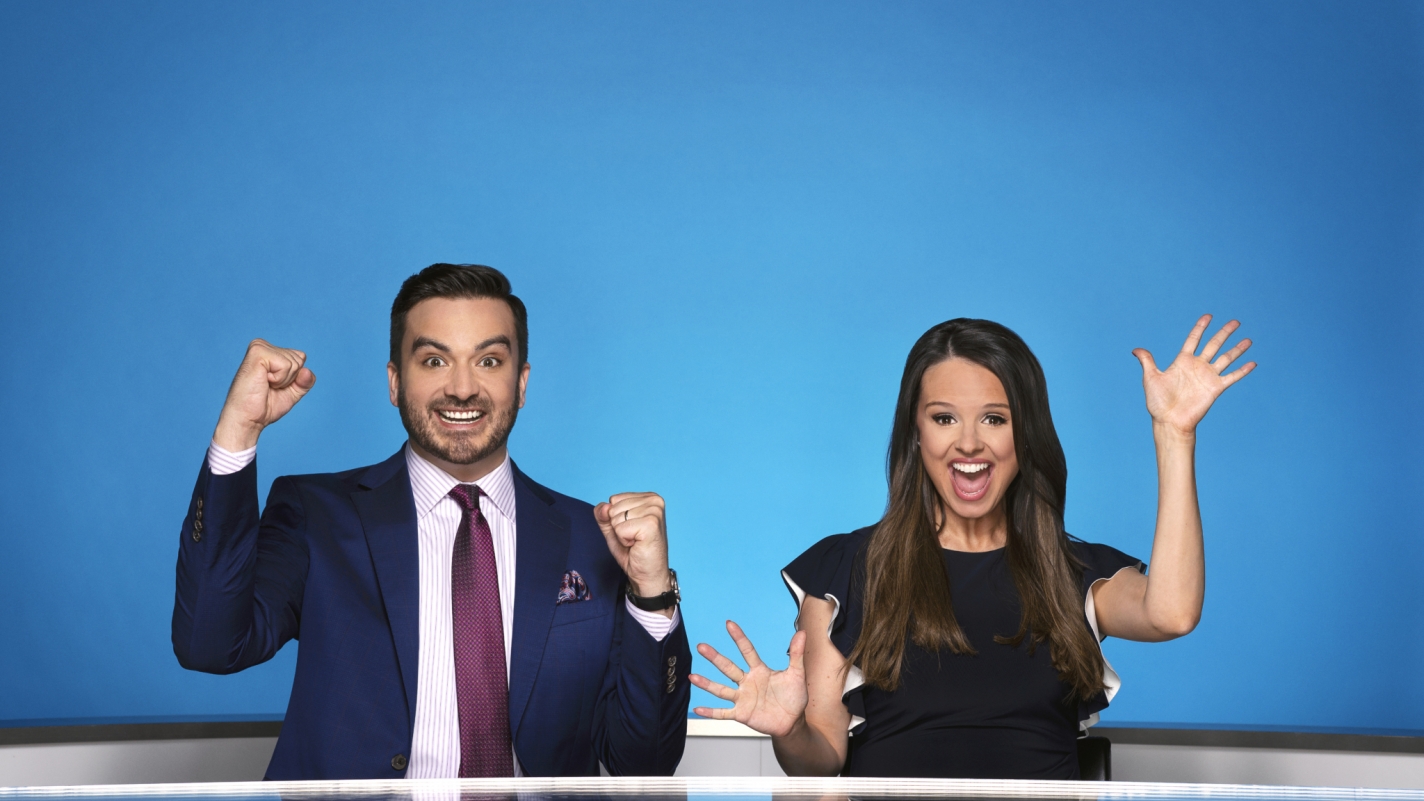 By Matthew Hays
Fake news — no, not the legitimate but unfavourable reporting loathed by many politicians these days — but the biting satire based on daily events, is something of a growth industry right now. In the vast media landscape where people get their information, the news-comedy industrial complex has emerged as a pivotal force in shaping public opinions and perceptions. There are countless U.S. shows and the cultural institution known as This Hours Has 22 Minutes in Canada, but breaking through the clutter is The Beaverton. It has ascended from a web presence to a full-fledged half-hour series, drawing national and international praise for its distinct brand of news parody in just a few short years. 
With its third season, the series moved up from cable net The Comedy Network to full national broadcast on CTV in July. Channel owner Bell Media also made The Beaverton available globally on CTV's official YouTube channel. (New episodes were uploaded to the web channel day-in-date with the CTV broadcast.) Clearly on a roll, with its growing success and audience reach, it's particularly noteworthy that the Beaverton brand has not lost its bite or edge — propelling it through that aforementioned clutter.  
"The network has made one thing very clear," says Beaverton co-showrunner Jeff Detsky. "They told us they wanted us to maintain the spirit of the website and early episodes. They weren't interested in us pulling any punches." Co-host and series writer Emma Hunter adds that "the network has thrown itself 100% behind us. It feels like the show is their first born."
The Beaverton website was launched in 2010 by Alex Huntley, the late Laurent Noonan, and Luke Gordon Field (who is co-showrunner of the current series). Inspired in part by the American satirical newspaper/website The Onion, the site featured the popular formula of creating fake headlines that could plausibly be real, despite their absurdity. 
"The site really came up on my radar in 2014," says Detsky. "Beaverton stories were popping up on social media feeds everywhere. Lots of people were sharing them. It really was crying out for a TV adaptation."
After two seasons on The Comedy Network, the show and website's reach continued to grow, with positive critical notices, more social media shares and the gold standard — people falling for joke news items as the real thing. (In 2016, The Hamilton Spectator cited a Beaverton article about the entire NDP caucus wearing neck braces to Parliament after the elbowgate brouhaha as though it was genuine.) 
Satire in the age of Trump
Of course, now there's an epic elephant in the room with which all satirical news must deal, even though most real news stories written about him play out like a comedy of errors — the current President of the United States, Donald Trump. It puts a Canadian show like The Beaverton in a slightly tricky spot. There's no way to ignore the man, but you can't put Trump at the centre of every joke, despite the obvious allure for comedy writers. 
The Trump Factor "cuts both ways," notes co-host and writer Miguel Rivas. "He is obviously funny, often every day. But he is also often so ridiculous that it's hard to know how to spin it. It is undoubtedly non-stop fodder for jokes, but there's no real nuance to pick up on."
He adds that "there's a tendency on the part of some of us to think that things can't get zanier than Trump. But let's keep in mind, we had Rob Ford. We had a no-one's-going-to-believe-this politician before America did."
"I think it's important not to give our politicians a pass, just because they're not Trump," adds Beaverton co-founder and co-showrunner Luke Gordon Field. 
"Not being in America does make for a different comedy," says Hunter. "The leader of our country isn't as bombastic or incompetent as the leader of the U.S. I think we have room to make our comedy more gentle. America is in a hard place; people are so full of anger. Comedy has a different feel here. There really isn't much that's subtle about Trump. I think that here you have to work a bit harder to get to the joke."
Detsky confirms the show's Canadian niceness. "We really avoid punching down. We're also diversifying our writing team. Some stories are too sad — we don't trade on tragedy. And the show went down for a few months so one of our hosts could take mat leave. We weren't about to replace someone."
Ironically enough, it was Trump's surprise victory that brought The Beaverton a good deal of immediate exposure and praise. The first edition of the show was an election special, and was to air the day after the 2016 U.S. election. They shot three versions: One where Hillary won; one where Trump was the victor; and a third where they didn't talk about the election much, in case the election was like the 2000 Bush-Gore scenario, in which precisely who became President wasn't determined until weeks after election night.
"So many didn't think the Trump episode would ever see the light of day," says Detsky. "But we had prepared the show, just in case, and as a result we were the first comedy show that had prepared material on Trump. It was basically 'The Funeral for America,' and that put us on the map."
How The Beaverton team gets it done
Since then, The Beaverton has had to change its production model to remain timely. The creative schedule sounds as frantic as, well, putting on a news show. Each episode starts up about seven or eight days prior to its air date. "We write the show backwards, starting with the least topical stuff," says Detsky. "What are people talking about this month? It could be the wellness industry, or Chernobyl. As the days go on, the writers get more and more topical. Since the show airs on a Tuesday, we spend all weekend chatting about what the big stories are." 
The writers then assemble at 8 a.m. on Monday to talk about the four main topics that arose over the weekend. "We share our various jokes, and a narrative begins to form from them," says Detsky. The meeting ends at about 11:30 a.m., when the script has to be finished. "Ideally, we want the show to feel like it was written on the day it airs."
Then the script is vetted by the legal department, where lawyers ensure nothing could lead to a lawsuit. This is where the Canada-U.S. divide can be felt most distinctly. "In America, the first amendment in the Constitution is very clear," says Field, himself a former lawyer. "In Canada, we have very strong defamation laws." So, getting into the personal lives of Canada's politicians isn't something The Beaverton is going to be touching anytime soon. 
"We work with the lawyers, who are on our side and are protecting us," says Field. "We say everything we want — we just might have to change our terminology or the language we use. I can't think of a single segment that died this year due to a legal issue."
As The Beaverton's audience continues to grow, the creative team behind it recognizes a certain responsibility that comes with conveying the news — even in a comedic style. It's not the news, but it is presented to a broad audience. And in a fitting twist, the move to CTV means the show gets taped in a studio right across the hall from where the actual national news is broadcast. "We don't have the journalistic responsibility," Rivas says. "We talk about the entire zeitgeist, but avoid ever being condescending or didactic. We don't present ourselves as some kind of moral authority."
"In last season's finale, we did The Beaverton's guide to spotting fake news," says Detsky. "We were having fun while teaching media literacy. We're not the news. We're commentary on the news. The balance of our show is fun — we don't want it to feel like homework."
Hunter says she has ambitions for the show. "Ultimately, I'd like it to lead to me becoming the Prime Minister. Nah. Actually, that's not true. I think mainly I'd like for us to bring some happiness and relief into living rooms in the evening on issues that are often really hard to process — a little light in a world that often seems so dark.
"If we can do that, I'll be happy. Also: Money, power and world domination!"