The long and the short of it
Writing tinged with absurdist humour and real heart fast-tracks sketch troupe Tallboyz from stage to TV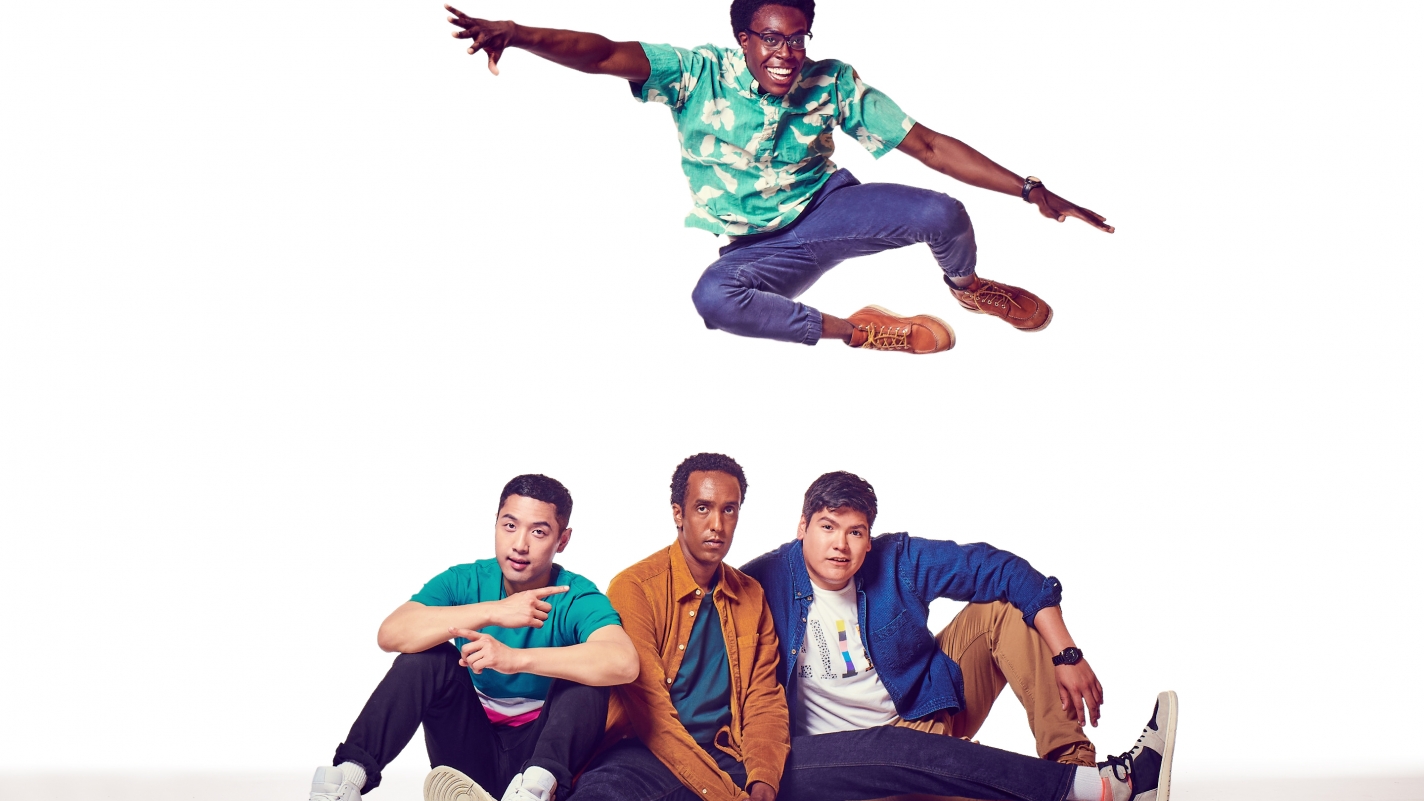 By Li Robbins
Take three short years and add four tall guys — that's the setup for the story behind sketch comedy troupe Tallboyz' leap from stage to screen. Success has come fast for the quartet. They got together in 2016 in time to enter The Toronto Sketch Comedy Festival that fall, and by September 2019 their eponymous eight-part series premiered on CBC Television, with Bruce McCulloch of Kids in the Hall (KITH) fame as showrunner and EP. For the record, Tallboyz are as advertised — there's Guled Abdi (6' 8"), Vance Banzo (6' 5"), Tim Blair (6' 1") and Franco Nguyen (5' 11" — and a half!). 
While Tallboyz sketches include moments of height-related physical comedy, (for instance, "Tall in the Club," where forehead-meets-exposed-duct work for some slapstick guffaws), most of the laughs are reliant on sharp writing. (Even in "Tall at the Club" the duct work is credited to architect Frank Gehry, in an endearing aside.) But it's Tallboyz' thematic material that seems to have clicked with critics seeking something fresh. Among other things, Tallboyz write about male body image, masculinity, friendship and vulnerability — not the most typical fodder for men in sketch comedy.
"I think we do explore some uncharted comedy," says Vance Banzo. "I haven't really seen much sketch talking about the insecurity of men and masculinity. We were all raised by single mothers, so we're definitely in touch with our more sensitive sides, and we're not afraid to be vulnerable." 
They're also in touch with issues of race and racism, with sketches reflecting their real-life experiences as "a diverse group of comedians being diverse diversely," as their Facebook page would have it. In the sketch "I Know Canada," for example, Banzo (who is Saulteaux/Cree) plays a game show host quizzing a white guy on the differences between an Indigenous person and a Canadian penny. It's an absurd premise, but one that quickly gets to the heart of the discomfort many non-Indigenous Canadians experience when talking about Indigenous issues. 
But while race and notions of masculinity provide plenty of inspiration, the group has no rules about what it chooses to write about, as Guled Abdi explains.
"When we're writing, we just bring up any idea. When we have the most discussion, it's about sketches connected to race. We want to make sure we're as thoughtful as possible, and we try to make the ideas clear and powerful."
The troupe's members, who all knew each other from Toronto's improv and stand up scene, began as Tallboyz II Men, but some combination of concerns about trademark and online searchability meant calling the CBC series Tallboyz. And yes, they do have a boy-band sketch, revolving around one group member's reluctance to take off his shirt, and it concludes in a manner that can only be described as surreal. (No spoilers: See episode one, streaming on CBC Gem.) 
Their live shows were always written as a group, honing the sketches in response to audience reaction. But once CBC saw the pitch (scored live, complete with sound effects, which was McCulloch's idea) and greenlit the show, the way they wrote had to change. For one thing, there was a schedule. They wrote the show from Nov. 2018 to Feb. 2019 (the writers' room was in an empty bar), which meant having to work faster than they were used to. They also incorporated other writers into the room, and had McCulloch's notes to consider.
"Collectively we had almost no TV experience," says Abdi. "And we were used to writing as a committee. But when we got to the show, we were told it would slow down things dramatically to work that way. So, we had pitch sessions, and did some writing individually. If we hit a wall, we'd bounce the ideas off of each other."
Franco Nguyen underscores the challenges they faced. "Our training is in funny. We've had a lot of practice being funny in front of live audiences. But the speed at which a TV show comes together is way faster. And the speed at which people process visual information [via a screen] is much faster, too. We've had to learn to write in a more concise way." 
McCulloch, who first encountered Banzo and Tim Blair while guest lecturing at Humber College's Comedy: Writing and Performance program, proved a hugely helpful mentor. 
"Bruce gave us lot of tips and tricks on what's required for a script in TV," says Blair. "Lots in terms of structure, and things like how much detail is needed so that the humour comes out, and what makes it flow so that an idea can be clearly understood."
The sheer breadth of McCulloch's experience inspired and motivated all of them, as Banzo recalls. 
"Bruce talked a lot about his time in the KITH [troupe], and about being a writer on Saturday Night Live before Kids got their show. Also, when it comes to writing, he's a lot like myself. Procrastinating, mulling things over. But the one thing Bruce kind of drove into us is that if you have an idea just write it, because you don't know where it's going to go. You could have three ideas done by the end of the day, so just keep working, keep going." 
Abdi echoes Banzo, commenting on McCulloch's "vast knowledge of comedy" and his motivational skills when it came to getting the members of Tallboyz to stick with a sketch even when it could go to "eight or 10 drafts." 
"He could see the funny in ideas we were sometimes unsure about," says Abdi. "He had a different eye for the stuff. He was so generous with feedback and really tried his hardest to let this show be the show we wanted it to be."
It's tempting to look for signs of KITH in Tallboyz, but McCulloch is on record as saying Tallboyz' brand of humour is a little "kinder and sweeter" than KITH's, also less sexual and more political. When McCulloch first saw Tallboyz live he was impressed by how "original, surprising and sweet" they were, as he said in the CBC press release announcing the show. As for Tallboyz, KITH has become an influence, but they didn't all grow up watching it. At 23, Blair says his first experience of KITH was when he was still in middle school, watching the reunion special Death Comes to Town. 
Where KITH and Tallboyz as writers do cross over is in their mutual penchant for the absurd. KITH had its oddball cops who would do things like consider the property values of houses during a shoot-out. Tallboyz has its hapless Toronto Transit Commission (TTC) special constables; out of shape, bumbling, and in one sketch, carrying pepper spray because they can't carry guns. ("This isn't America," is the winking line to the camera.) 
But police play a more troubling role in a Tallboyz sketch premised on two men in a car being pulled over by a pair of cops for no reason. The car's driver says that because he's "a black man in a car," he knows exactly what the cops will say when he lowers the window. And he does know. Literally. The scene unfolds with the driver mirroring both police officers' lines, word for word. Words, it must be noted, that ring so true some might find the sketch almost painful to watch. The twist is a revelation about the origins of police racism though, moving the whole thing to a deeper level of social commentary. But then, just when you need them to, the TTC special constables show up.
Abdi says he's "very proud" of the pull-over sketch, which the troupe's members spent a lot of time writing before they even took it to the writers' room. But the members of Tallboyz say they never can predict what will resonate with the audience. The TTC constables have been an unexpected hit, for example. So has "I Could Have Met Drake," in which everyone and their dog and their dog's cousin shares a near-brush with the rap star. It ends with a solemn, PSA-style warning: "Every day, one in three Torontonians will claim they met Drake. You don't have to be one of them."
Tallboyz has been airing on CBC back-to-back with Baroness von Sketch Show, and in some ways, it seems almost like its flipside. Not surprisingly, Baroness has its admirers in Tallboyz. (Abdi notes "they pack so much into such a short amount of time, which is so impressive.") But whether the multiple seasons that Baroness has landed are also in Tallboyz' future remains to be seen. Clearly the troupe is hopeful, and they're already hard at work. Banzo describes his days as pitching, writing and going home, then doing it again the next day — all the while keeping in mind the underlying values of the kind of comedy Tallboyz is committed to making.  
"We've had discussions about it," says Banzo. "We really want a positive, fun, and caring show — we all care about each other so much. We want to bleed that into the paper and hopefully to the screen."