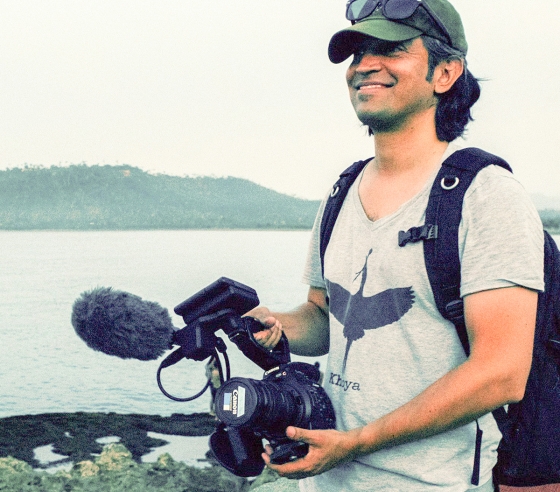 By Cameron Archer
With a 2020 Oscar nomination in-hand for his work on documentary short St. Louis Superman, Sarnia, Ont.-born Sami Khan is dipping his toe into the TV world. Signed on as a screenwriter for the recently debuted CTV medical drama Transplant, Kahn talks about transitioning from writing documentary features to television and what he's learned so far. 
How did you handle your transition to scripted television with Transplant, with the level of anticipation a network show brings?
My transition to TV was aided immeasurably by being mentored by experienced writers, especially showrunner Joseph Kay. You learn so much from just watching a great TV writer pitch ideas, day in and day out.
I think some people are built to tell stories and respectfully collaborate with others, and some aren't. I've made a low-budget film in India, spent time in a Middle Eastern jail trying to make another project, and dealt with all kinds of hair-brained narcissists along the way. After all that, the pressure of a TV show doesn't seem so bad. I know I couldn't have succeeded with the day-to-day work on Transplant without those other amazing writers who showed me the ropes.
Transplant's main character Dr. Bashir "Bash" Hamed is a Syrian refugee, so ethnic background is central to the show's premise. What are the challenges in keeping his and other characters' voices authentic?
Authenticity will always be elusive, but TV shows need to work hard to make sure they're telling stories with communities, not just about those communities. That means incorporating members of those communities into the key creative processes as decision-makers. Those are important considerations for the Transplant team, and they're always working hard to make sure the production adheres to that concept.
How has your father, Dr. Rauf Khan, influenced and helped your writing on Transplant?
My dad is a Muslim immigrant and has been practicing medicine in Canada for 40 years, so there are some similarities to Bash, the protagonist of Transplant. My dad is also a huge film and TV nerd, so storytelling was something he taught me. I was inspired by him to pursue a career in film and TV. Honestly, he was the spark that started it all for me. 
How does television differ from other screenwriting disciplines, given you've written for film and radio drama in the past?
With teasers and act breaks, the hook forward is so key to television writing. It should be key to all kinds of writing, but it's often overlooked in feature writing because structure is more fluid. I think the hook is probably the biggest practical thing I learned from the other Transplant writers.
The biggest soft skill I learned was just how to be empathetic and collaborate in a room. You're spending months on end with these people heatedly debating all sorts of stuff, so I learned you don't have to be the smartest person in the room. You just have to be someone people want to be around and who adds value to the show. Sometimes adding value just means a well-timed joke during a particularly stressful day. Sometimes it means just shutting up.