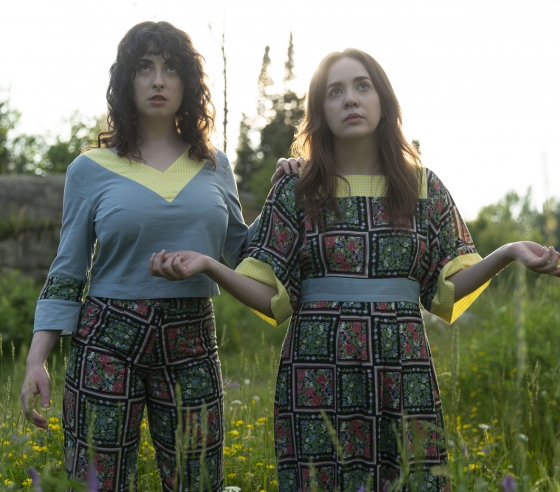 W-Files: Kayla Lorette & Evany Rosen
By Cameron Archer
While Kayla Lorette (right) and Evany Rosen (left) have worked together in the theatre with 2015's Network Notes, the pair's most ambitious project to date is true-crime documentary send-up New Eden. The show went into production for Bell Media's Crave this past summer, and follows the New Eden community as it deals with issues related to communal living, alien goddess worship and murder — of course. Among other credits, Rosen is a writer, story editor and actor for CBC's Baroness von Sketch Show, and was a member of sketch comedy troupe Picnicface. Lorette is currently best known as Dree Davis on Kim's Convenience (CBC), and is a voice-over artist for series like Gary and His Demons (CBC Gem/VRV) and Cupcake & Dino: General Services (Teletoon/Netflix). Shoving three decades into eight episodes, New Eden debuts in January 2020 on Crave.
Where did the idea for New Eden come from? How did your past writing experiences inform the creation of the series, and how did you come to collaborate on it?
KL: Evany and I are both fans of true crime and have always had a deep interest in cults. The idea that a group of people could be manipulated into following the doctrine of a strange leader is so endlessly fascinating.
ER: The idea for New Eden evolved over many hours of discussion, and one self-appointed "voluntary work trip" to Ottawa where we spent the weekend brainstorming. We really liked the idea of working with both true crime and the intricacies of female relationships.
KL: We always knew the comedic core of New Eden would be the characters. I believe our history as improvisers helped develop dialogue that felt grounded and natural to fit the documentary style.

How did you prepare background research for New Eden? Did you examine the stories of past, failed Canadian utopias like Major William Kingdom Rains's attempts on Lake Simcoe, or the Kalevan Kansa in Sointula, B.C.?
ER: No, but I'll be sure to look those up!
KL: We read a lot of feminist works from that time, but also looked to all past and present female communes to see how they differ from ones led by men. How do matriarchies function, and how do they crumble when their leaders are foolish or egotistical?
ER: Our research was more focused on communal living movements that emerged in California and on the West Coast in the 1960s and '70s. I remember we had already done a deep dive on the Rajneeshees, and then Wild Wild Country came out. We were both like, 'Oh no, people are gonna think our show is based on this doc.' 
KL: The women in our story were all pushing back against the sexism they were facing, and wanted to define their own rules for living.

How hard was it to establish a place like New Eden and keep it believable, but keep the satire sharp?
ER: The world of New Eden itself — which is all found footage from a 1970s cult — was the most organic, I think. In that realm, we were working from a pure space of character — not only our own, but also all the women who populate New Eden. The comedy and pathos there felt natural and easy.
KL: We talked a lot about women and how they function in large groups — the tenderness and care of sisterhood, but also some of the darker elements of female communication. Evany and I spent a lot of time exploring so many details of New Eden, a lot of which never made it to the screen. We took a lot of care in the world-building so that it would feel real to us. Once that world was built in our minds, it felt easy to inject any satire or absurdity without losing the soul of the show.
ER: Once you step back from that world, knowing all that footage is filtered through the lens of a 1991 documentary that sees our characters through their trial and into a life behind bars, it becomes more of a juggling act in terms of tone. The world and the story gets so much bigger, and so much more absurd, but it has to walk this familiar real-feeling line. 'Wait, do I remember that news story from the early '80s?' is the question we want our audience who were alive in the early '80s to ask.

What separates New Eden from true-crime mockumentary series such as Netflix's American Vandal and NBC's Trial & Error?
ER: The first thing we always say when people ask us about those shows is that we are not a mockumentary, but a fictional documentary. We were always fascinated by the idea of the documentary lens as a vehicle for story, but not as the butt of the joke. We wanted our doc to feel authentic, and for the characters … to have their own story going on.
KL: It was very important to us that our show had real stakes and real drama. We wanted to see how far we could take the serious elements of their story without losing the comedy. We also took a lot of care in crafting our fake documentarians. We wanted to know exactly what intention was behind each lens so we could explore the ideas of male gaze and media perspective. That last sentence doesn't sound all that fun, but I think it gave us a rich extra layer to play with.
ER: In a lot of other true-crime mock docs, the stakes are really low, but they're treated like they're high through a parody of the format. We wanted to make a comedy where the stakes were actually high — people get killed, people get brainwashed, people go to federal prison. The characters themselves are so absurd, and at times ill-equipped to handle the extraordinary situations they find themselves in, that all the darkness somehow ends up being funny. 

What are your goals for New Eden, both comedically and commercially?  What do you plan to achieve with the series?
ER: We certainly hope that people will discover something new with New Eden and discover not only a unique format, but a new balance of comedy and drama that they maybe haven't seen before.
KL: We want to make a funny and interesting series, one that challenges conventional structure. We are interested in playing with moments of drama and seeing how far we can push that. We also want to show complex and flawed female characters.
ER: Honestly, we'd just be jazzed if people watch it period. That'd be great.