Laughs Imitate Life
How the series' writers borrowed from Jann Arden's real life to craft comedy hit JANN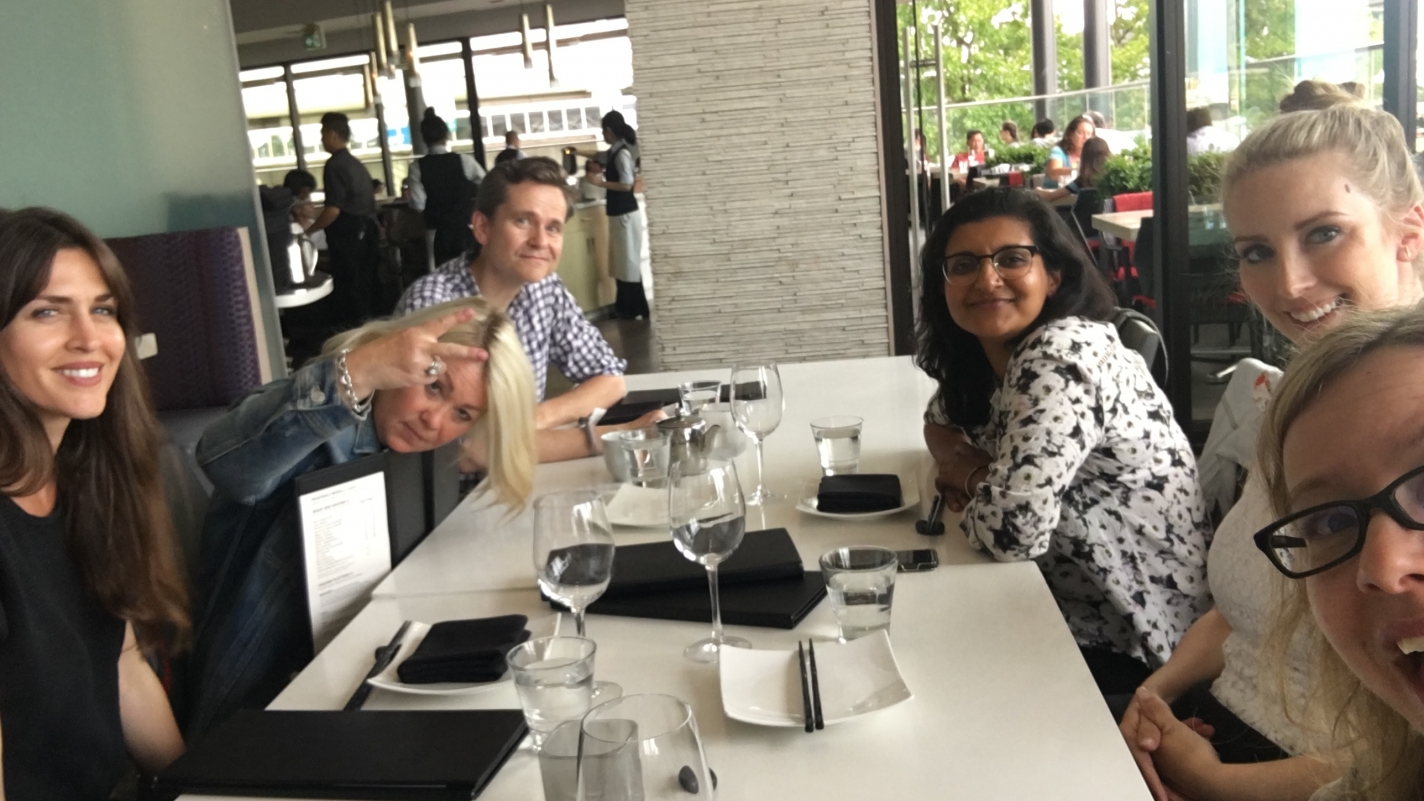 The writers behind comedy JANN borrowed from musician Jann Arden's real life
to craft a series that's uproarious, poignant — and a genuine Canadian hit
By Mark Dillion
Looking back, it sounds like a no-brainer: A half-hour, single-camera comedy with celebrity singer-songwriter Jann Arden playing a heightened version of herself, like Larry David on Curb Your Enthusiasm. She had already made Canada laugh on Rick Mercer Report, bumbling through zip-lining, the CN Tower EdgeWalk and other misadventures.  But as JANN co-creator Leah Gauthier explains, the idea gestated and took some retooling.  
"Jann and I had talked for a long time about doing a show, but nothing happened until I was at her house and said, 'Let's just write down what we would want it to look like,'" recalls the Vancouver-based Gauthier, who had worked on the production end of Arden's tours in between casting and producing reality series. 
"Jann has an amazing reputation and everybody loves her for good reason. I knew she would open a lot of doors," Gauthier continues. "I knew the opportunity would come to me relatively easily, so it's what I was going do with it that would make the difference. It was on us to produce something that wasn't [bad]."  
Toronto's Project 10 Productions was on board and convinced Arden — who had also been a guest co-host on CTV talk show The Social and played a supporting role on CBC comedy Workin' Moms — that she was prime for a bigger TV role. 
"I've been inundated with TV show offers for the last 15 years: Cooking shows, talk shows, travel shows — you name it — and I just couldn't do them," Arden says from her hometown of Calgary, where JANN's six episodes were directed by Ron Murphy and produced along with Seven24 Films. "But my manager Bruce Allen said, 'You'll know when the time is right.'"
In the series' final iteration, self-absorbed Jann tries to resuscitate a sagging music career while getting over a split from girlfriend Cynthia (Sharon Taylor) and trading off responsibility for her Alzheimer's-stricken mother Nora (Deborah Grover) with sister Max (Zoie Palmer). Meanwhile, ambitious manager Cale (Elena Juatco) is looking to usurp control of Jann's career from easygoing Todd (Jason Blicker). 
But what Gauthier and Arden initially put to paper was markedly different. 
"We didn't have Jann playing a version of herself," Gauthier says. "We had a concept in which she was running a trailer park, and that morphed into the idea of her owning a strip mall and living above one of the stores. Then we took a step back and thought she should just be the easiest form of herself. She was nervous going into it, so playing close to herself was the natural way to get her comfortable."
Arden says she enjoys her character being unsympathetic, but at the same time was "mindful of what people would perceive as real and not real. She just doesn't get that it's not all about her and probably never will, which I think is funny. But it's important that the character has some redeemable quality and endears herself on some level." 
Her most relatable moments come from her interactions with her mother. In the third episode "Weekend at Charley's," written by Mike McPhaden, Jann barks at Nora for her forgetfulness and Nora calls her out for it. A close-up reaction on Jann shows the guilt she feels. It's a moment that viewers will recognize as borrowed from Arden's real life, as she has been very public — and even wrote a book — about caring for her mother Joan Richards, who passed away last year after battling Alzheimer's. 
"That was my mom when she would say, 'You always sound mad at me' — and I did — so the writers put that in," Arden says. "I want the show to be an enlightening vehicle about dementia. There are a million families dealing with this in Canada. We bring some laughs to it and Deborah Grover is amazing, and it's an opportunity to educate because there's a lot of shame attached to the disease."   
Their pitch document attracted Bell Media, which eyed the show for its main CTV network. As Arden and Gauthier were newbies to creating scripted TV, they knew they needed an experienced writer as showrunner. Enter Jennica Harper, whose scripting credits included Cardinal and Motive. She discussed the series with Project 10's Ben Murray at the Banff World Media Festival, and that led to a phone interview with Arden and Gauthier. 
"I know my strengths, but I'm also aware of my weaknesses," Gauthier says. "When we built our team, I needed empathetic teachers to help navigate this. Jennica was a natural fit because she had all the skills I didn't. We interviewed a lot of people, but she came out of the gate super-prepared. She had read the material, thought about it, and came up with alternative story ideas." 
Harper, also based in Vancouver, reflects, "Who wouldn't want to be part of this show? I thought their pitch document was so funny. What they had on the page sparked a lot of other ideas." One of those, which she suggested in their interview, was a running gag about singer-songwriter Sarah McLachlan being Jann's arch-enemy. 
"The idea of somebody thinking of Sarah McLachlan — who is extraordinarily talented and by all accounts generous and kind — as a nemesis who needs to be taken down made me laugh," Harper continues. "That's the kind of thing I pitched them on — places we could go in terms of the world and the character setups." 
The trio sealed the deal after hitting it off over dinner in Vancouver. "We have similar tastes in what we watch. What excites us in comedy are shows with many layers and tonal dimensions. We love shows that go very silly but also get to something relatable or heartfelt," says Harper, who shares creator credit with Gauthier and Arden.
They felt their way through deciding which other elements from Arden's real life to include. One of the biggest alterations was giving Jann a sister — one who feels overwhelmed with her fourth child on the way — when in real life she has two brothers, one of whom is in prison.
"Instead of touching on any of that and potentially treading into hurtful places, we decided to go in a different direction," Harper explains. "We thought it would be fun if Jann had a female sibling to butt heads with — one who was similar in a lot of ways and different in others."   
Despite airing on CTV, the series plays like a cable show with its tonal shifts, occasional swearing — with offending words bleeped out —and boundary-pushing elements such as bisexual Jann kissing another woman. Notes from Bell Media executives Corrie Coe, Sarah Fowlie and Chris Kelley helped the writers land in the appropriate spot.     
"Their feedback was more in the form of questions than dictating to us," Harper explains. "This show takes some chances for network comedy, so we had to figure out what are good chances and what would take us over the edge for CTV's viewership, as well as the balance of comedy and dramatic moments." 
The writers cite many single-camera comedies as influences, including British series Fleabag with its issue-laden lead character, although they didn't want to go as dark; and The Comeback, which features an actress similarly trying to rebound in her career, although they didn't want to go as cringey. Harper notes a resemblance to Veep, "if you actually cared about everybody instead of nobody. You can root for everybody on our show, which makes it warmer and more network-friendly."  
When recruiting the rest of the writing staff, the creators looked for somebody seasoned in structural story-breaking to compensate for Gauthier's lack of experience. Harper says Toronto-based McPhaden, whose credits include Corner Gas Animated and Degrassi: The Next Generation, "filled that gap, as well as being really funny and being a male voice in the room."  
Meanwhile, Nelu Handa, a writer/performer on Baroness von Sketch Show and The Beaverton, was somebody Arden had in mind after they met as actors on Workin' Moms. She impressed Gauthier and Harper with the suggestion the Cale character be a woman of colour — East Asian, ultimately — instead of another white male like her rival Todd, as was originally conceived. It's part of a mission for Handa, who created Yas Queen, a monthly comedy showcase for women of colour.
"I've always been an advocate for helping women of colour and doing anything I can to get more diversity on the scene," Handa says. "Calgary has new immigrant populations and Cale is very much mainstream and of the times. And she's just one of the gang. Having characters who are diverse but normalized is impactful."
In addition to breaking stories, Handa collaborated with Gauthier on the script for the fourth episode "Major Party Foul," in which Jann plans Nora's 75th birthday party and it entails blackmailing Rick Mercer (playing himself) to perform. (Harper ranks it as her favourite episode.) Handa also got to play Cale's nemesis Sage, a hard-as-nails publisher whom Cale can't convince to take Jann's memoir in episode five, "You've Been Soft Served," written by Gauthier and Harper.   
The room kicked off with two weeks in Bruce Allen's Vancouver office before relocating for one week to Arden's house outside Calgary, which resembles the one used on the show with a cottage next door. It was a sort of writers' summer camp: The group slept there and bonded over movies and hikes. Arden chimed in during story meetings while preparing meals for everybody and going about her domestic chores. 
"She was very much a part of the writing room in Vancouver, where there was no cooking to be done," Toronto-based McPhaden says with a laugh. "At her place, there was a little more distance. By then we had outlines and I think we'd earned her trust. She had trust in Leah and Jennica from the beginning, but from Vancouver and the first documents we created, she got the sense we all had our eyes on the same course. So, she could just keep an ear open for ideas she liked or thought might be problematic." 
Having this rare window into Arden's world inspired the writers. For example, they were amused that she would vacuum while they were brainstorming. So McPhaden incorporated that into his episode, in which a lifestyle journalist's attempt to interview Jann in her home is similarly thwarted by her housekeeping.  
Jason Filiatrault, the show's only Calgary-based writer, rounded out the team. He participated in the development process, which he characterizes as "helping put together the pieces of what an episode could look like." He was also present at Arden's house, although his time was limited as he had just come off a season of Vancouver-shot Netflix horror series The Order, on which he had worked with Harper.  
He was particularly impressed by the show's casual approach to Jann's sexuality. "The idea that it was a show embracing bisexuality and that aspect of a nationally known person in a character was tertiary," he says. "It was never discussed as a thing worth worrying about. It was just a fact of the character and they created the show around that." 
Filiatrault split scripting duties with Harper on season ender "WWJD (What Will Jann Do?)," based on Harper's story. They stacked the deck with cliffhangers to stoke interest in another season: What will happen on Jann's tour? Will she break up again with Cynthia and get back together with tour manager Reggie (Julian Black Antelope)? How will Max balance a risky pregnancy with Nora's needs?
Viewers will likely get answers to these questions. According to CTV and Numeris, the series' average audience grew to 1.1 million for the April 18 broadcast of episode five (including two days of PVR playback), making JANN the most-watched Canadian comedy this broadcast year.
Although a CTV spokesperson could not confirm a renewal, chances are good for a return of the series sprung from ideas Gauthier and Arden casually put to paper.  (Editor's note: CTV announced JANN's official second-season renewal at its upfront presentation on June 6, 2019.)  
"It's been the greatest experience of my adult life and I'm so grateful for it," Gauthier says. "I'm excited to continue to do it. Now that we know the characters it will be so much fun to write to their personalities. I can't wait."