Lively Little
Cavendish co-creator Mark Little on his move from animation to live action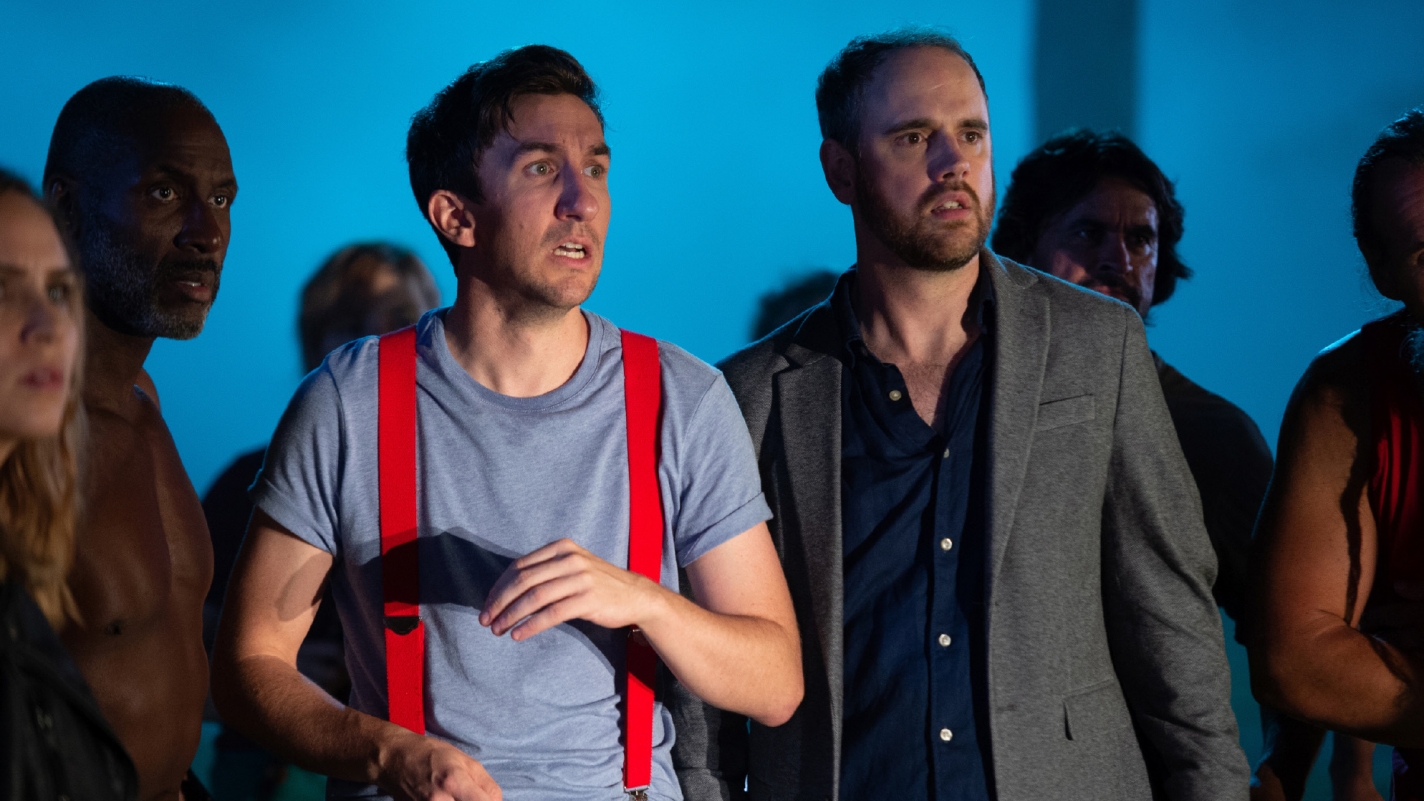 Cavendish co-creator Mark Little talks about moving from writing for kids animated series to live-action comedy — they have more in common than you might think  
By Kendra Wong
Some people may question what a kids animated series could possibly have in common with an adult-targeted supernatural comedy/mystery show. But for Mark Little, they are one and the same — at least in how he goes about creating stories for them.

Little's formula is simple: Have a character, or a group of characters, propose a ridiculous idea or a series of ridiculous ideas, then introduce a voice of reason to balance things out. Sprinkle in a hint of conflict, come up with an exciting climax, and top it off with a heart-warming lesson — et voilà, you get the laughs you were looking for.   
"It's super-basic Comedy 101, but I really get a kick out of the one person who is the voice of reason, or flip that, have a group of people who are the voice of reason," Little says. "Whatever the combination is, I find that contrast, which is the foundation of so much classic comedy, funny." 

In fact, it's the same formula Little and Andrew Bush used to write their new original comedy series, Cavendish. Produced by Boat Rocker Media's Temple Street Productions, the duo are the series' co-creators, showrunners and executive producers. 

Cavendish premiered on CBC in January and revolves around brothers Mark (Little) and Andy (Bush) Tennessen, who have returned to their P.E.I. hometown after almost 30 years away to care for their ailing father. However, the pair quickly realizes that Cavendish is not like other towns. Everyone there is obsessed with the local legend of a wolf-like beast that preys on people at night. Soon Mark and Andy become embroiled in many misadventures in this strange place.
 "With stand-up, sketch, narrative storytelling and movies, it was all cart before the horse." - Mark Little


For Little, who also portrays Xavier Academy science teacher Simon on the CBC sitcom Mr. D, Cavendish represents his transition from writing animated to live-action comedy. But it hasn't been a simple move from one genre to another.

Little's foray into comedy started in high school in New Westminster, B.C. He was involved in improv before participating in sketch and stand-up comedy, including being part of a Halifax-based sketch comedy group called Picnicface, where he met Bush.

Whereas most people go to school to study scriptwriting and the art of crafting a narrative before trying to break into the industry, Little did it in reverse. "With stand-up, sketch, narrative storytelling and movies, it was all cart before the horse," he says.

After working on a genre parody called Roller Town, in which the skeleton of the story was completely secondary to the jokes and insane moments, Little realized how much he didn't know about writing a cohesive narrative. But he quickly realized it was a skill he would need to master.

To learn more, Little began reading books like Save the Cat! by Blake Snyder, while simultaneously juggling other projects, such as Dad Drives and Space Riders: Division Earth. In addition, he soaked up as much comedy as he could, and participated in online communities to learn how to implement storytelling practices in his own work.

Little finally got that opportunity while writing for kids animated series Winston Steinburger and Sir Dudley Ding Dong. During the stint, he discovered that he had an aptitude for writing kid-friendly 11-minute episodes. "You really want it to go, go, go," he says. "But you also want to weave in elements of heart, growth and especially jokes, usually in an adventure-based storyline."
And after writing, producing, acting and directing many projects over the years, his hard work really began to pay off in 2018. It was a breakout year for Little. He created and sold adult animated comedy Gary and His Demons to CBC's Gem streamer and several international broadcasters, also serving as showrunner. With an overall rating of 8.1 on IMDB, the tale of aging and cantankerous demon hunter Gary, who longs to retire after spending 30 years doing a job he never wanted in the first place, is striking a chord with critics. He also wrote eps for kids animated comedy Cupcake & Dino: General Services, which made The New York Times list of "Best TV shows of 2018."

Then came Cavendish. It was a simple trip to Canada's East Coast that sparked the idea for the series. Bush, who is from Nova Scotia, travelled to the real town of Cavendish for family vacations while growing up.
 "I still write jokes that I would laugh at, I hope. I still try to write jokes for me. I never try to write down to a perceived audience, ever." - Mark Little


Situated on the north shore of P.E.I., the small town is a summertime tourist hotspot primarily known as the site of L.M. Montgomery's family home and the inspiration for many Anne of Green Gables stories — not quite an historical theme park, but close. "I never went to Disneyland when I was a kid, so this was my Disneyland," Bush laughs.

After returning from Cavendish with his family six years ago, Bush proceeded to tell Little all about his experiences. "He just started describing the town to me and it sounded amazing. It was weird, idiosyncratic and interesting. I got excited just hearing him talk about it," says Little. "We thought we should honour that excitement. Clearly this world is speaking to our sense of fun and we thought we should pursue that."

The show started off as a seed of an idea, before eventually transforming into the half-hour supernatural comedy series that it is today. "We inserted more Twin Peaks and Scooby-Doo, to the point where it's not really Cavendish," says Bush, who notes that although production takes place in N.S. and P.E.I., the show is not meant to provide an accurate depiction of the town, but instead should be seen as an ode to the Maritimes.

Ultimately, the pair is trying to write the funniest show they can, but let's face it — comedy is tough. From the outset, they tried to stick to the basic formula for a classic sitcom, which included a main plot (story A), as well as one or two subplots (stories B and C). They excelled at coming up with adventures for their main characters. However, Little and Bush struggled with transitioning the story to secondary characters. According to Little, in the end, they couldn't justify adding scenes and storylines to fit the classic sitcom formula. It just slowed down the momentum of the overall narrative too much.

That's when it dawned on Little. Why not apply the same approach he took in writing kids animated comedies to Cavendish? After all, comedy is the same across genres, he notes. "In a kids show, you don't want to shy away from that size of storytelling — taking a small thing and making it massive. You're telling what sometimes feels like 90-minute movies in 11 minutes," he contends. "We kind of wrote Cavendish like 11-minute kids cartoon episodes. It was getting comfortable telling these stories in 11 minutes. That made it much easier to do it in 22 minutes."

At the heart of his work on both animated and live-action comedies is the desire all comedians have — to make people laugh. It's a feeling he says is hard to describe. "The raw feeling of it feels good. There's a science to how you arrive at it, but once you're in it, it feels like magic," Little says of finding that comedy sweet spot. "I still write jokes that I would laugh at, I hope. I still try to write jokes for me. I never try to write down to a perceived audience, ever."
Cavendish is currently available for streaming in Canada via the CBC Gem app.