The #FightForWynonna
How Emily Andras turned Wynonna Earp into a fan phenomenon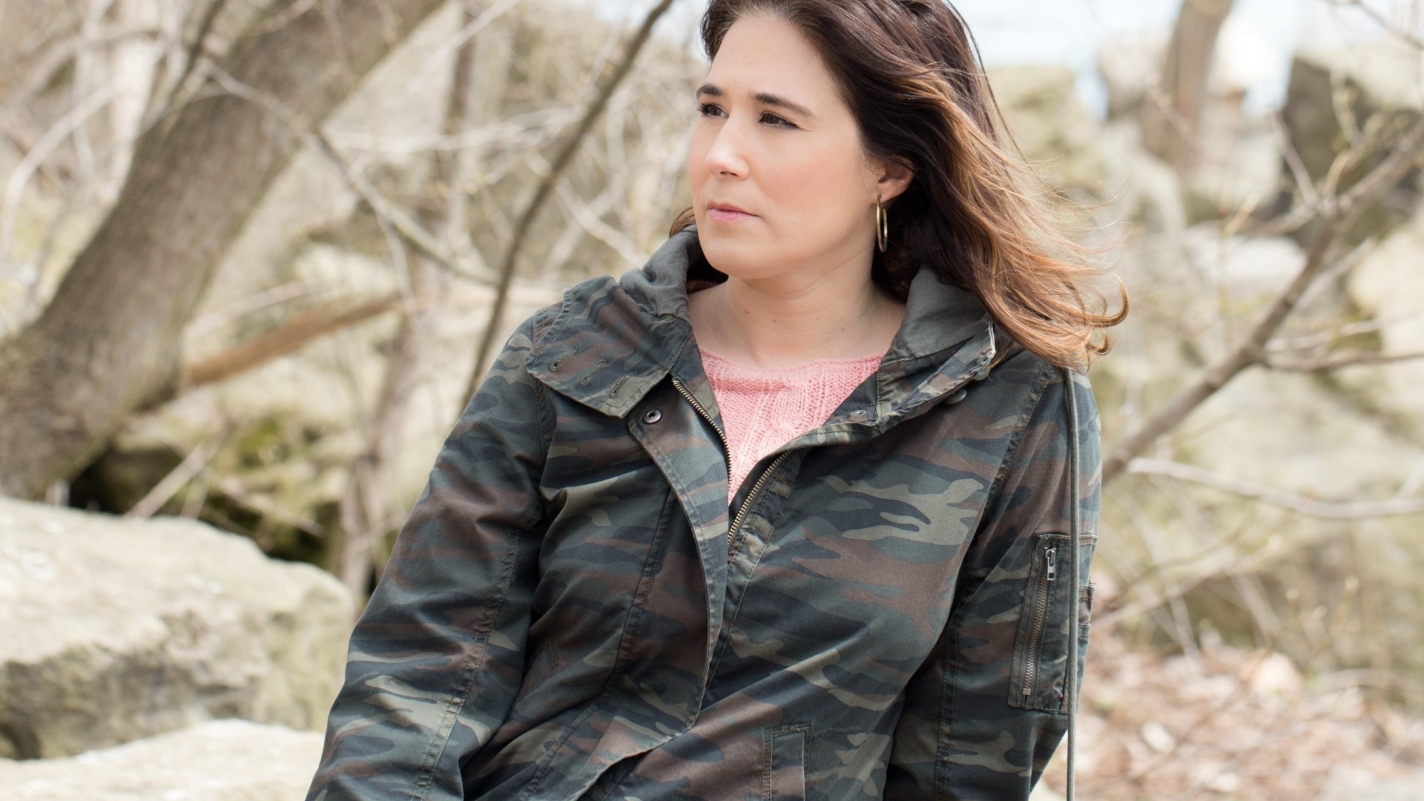 How Emily Andras, her writers' room, and some social media savvy made Wynonna Earp the people's choice 
By Li Robbins
There is #NoChill in the world of Wynonna Earp fandom — the show's fans (a.k.a. Earpers) truly embody that hashtag in their fervour for all things Earp. But there was a definite chill for fans and the show's writers, cast and crew when news broke in February that season four production had been halted due to financial issues — even though the show was renewed for not one, but two seasons by both SPACE and Syfy. 
"We had already started the writing room in September," recalls showrunner Emily Andras, "so I had no reason to think anything other than, 'Oh right, making a show out of whole cloth is always hard, even when you're four seasons in.' Finding out we were going to be delayed due to financial problems felt like a punch to the gut." 
She took that hit to the people, hinting on Twitter that the show's status had suddenly turned from greenlight to limbo. Earpers didn't reel for long though — they swiftly rallied via yet another hashtag, #FightForWynonna, which trended worldwide after the news broke. The fight was also "IRL," with Earpers buying #FightForWynonna billboards in New York City's Times Square and on Melrose Ave. in L.A.  (Andras says that, as of mid-April, fans had bought more than 125 billboards in NYC alone.)
Despite the outpouring of support, at press time, IDW Entertainment, the studio behind Wynonna Earp, has yet to solve the financial problems that put the show on hold. Going from a two-season renewal to suddenly being in limbo feels "surreal and ridiculous" to Andras, particularly on the heels of the show's People's Choice Award win for Favourite Sci-Fi/Fantasy Show of 2018. That was a much better kind of "surreal," she says. "Just to be able to walk the red carpet as a writer is sort of insane. I feel very humbled that the fandom is so engaged with the show."  
Cult audience, big impact
From the start, Wynonna Earp fan engagement has been turbo-charged by social media, but it's unlikely anyone could have predicted the proliferation of Wynonna Earp-specific conventions (cons), podcasts, fanfiction and art (for instance, popular needlepoint items by self-declared "Earpiest Earp," @Nuutmeg). The community that fans have created goes well beyond the show. Earpers support each other through breakups, breakdowns and more, says Bridget Liszewski, a journalist who runs the website The TV Junkies, and she also happens to be a huge fan of the show.
"Wynonna Earp is so much more than a series," Liszewski says. "The show has fostered a community that's kind, inclusive and welcoming. Personally, I've met so many people through Wynonna that are now my best friends and family. I couldn't imagine my life without them, and Wynonna Earp gave me that."
The fan phenomenon hasn't gone unnoticed. Earpers have been the subject of at least one academic paper ("Earpers, interactions, and emotions: Wynonna Earp, 'the best fandom ever'"), and numerous think pieces appearing in the likes of Variety and The New York Times. The #FightForWynonna story has also been widely covered by publications as varied as the Globe and Mail, Hollywood Reporter, Vulture and Den of Geek.
If the show's fans define what it is to be a cult audience, they've been, to date, a heckuva powerful cult. Aside from the People's Choice win, (the show wasn't originally on the ballot; fans made it a "write-in"), Earpers have also played a significant part in previous season renewals. Liszewski recalls that after the first season it took Earpers "three weeks of making noise on social media and emailing to get across to the network why they loved the show so much." And they've been doing the same thing for every subsequent season.  
Andras is keenly aware of just how special that level of fan involvement really is. "Our ratings have been fine, our critical acclaim is good, but without a doubt the fandom has mobilized and told the networks, 'We want more,'" she says. "In an era with 500 scripted shows a season, you just can't buy that passion and engagement. Networks are really looking at that."
Full fan engagement
Back in season one though, who knew? Wynonna Earp writer Brendon Yorke remembers fan engagement as "a fairly gradual, yet steady climb." Even so, it wasn't long before the writers realized there was something out of the ordinary about this show.
"It became increasingly obvious that there wasn't just a growing number of people who thought the show was worth checking out and keeping up with, but there was a growing number of people for whom the show was a fundamental ingredient to the very essence of their being," says Yorke.
Weighty stuff for a series that is, after all, based on a comic book about a gun-slinging, demon-battling descendant of legendary frontiersman Wyatt Earp. But while the show's wild ride of plot twists (punctuated by zingy quips) is on one level pure entertainment, on another it has something important to say: It's unabashedly feminist and queer. 
"It makes me realize how much of a niche market we really tapped," says Andras. "I think there were people looking for something a little subversive, a little bit more diverse, a little more LGBTQ-friendly, and at the same time really fun." 
Wynonna Earp is all of those things. It turns the conventional western upside down — instead of laconic dudes riding around doling out justice, it's women and people of colour and of different sexualities. Interestingly, sharing that unique world directly with fans via live tweeting was one of the ways the show first caught on.  
"We were proud of our show, but were aware it was a weird sell," says Andras. "It had a weird title. It was very high concept. So, we got together and poked jokes at our own show and were excited about it. I feel like that genuine delight is missing sometimes in the social media space, and people responded to that."
Live tweeting also helped make the show "appointment viewing," something Andras thinks is underrated in the age of streaming. "There's something to be said for ending on a Friday night with a cliffhanger and having to wait an entire week to find out what happens — the fans love speculating and talking about it." 
Earpers' enthusiasm for epic plot twists has always helped fuel the writers' fire to keep 'em coming. "We burn through stories so quickly," says Andras. "It's a challenge because the structure has six act breaks, so it's constantly trying to find those moments that are shocks, and at the same time, it has to be genuine and the emotions have to be real. But I relish the challenge; it's one of my favourite things about the show."
Andras also relishes being on Twitter, where she has more than 66,000 followers. Her frequent tweets help followers feel directly connected, imploring her by name in fan reaction videos when one of those cliffhangers leaves them on a ledge more precipitous than her characters. It's a level of intensity that writer Noelle Carbone, who joined the show in its third season, found both inspiring and daunting.
"I watched the fan engagement over the first two seasons and saw how incredible it was … It's a lot of pressure coming onto a show that is so beloved, especially by the LGBTQ community." 
Carbone adds, "it's a community that has been painfully underserved in mainstream television." And she's right — historically there are multiple instances where LGBTQ characters, if they exist at all, have been disposable — literally, as in the infamous season of 2016 when some 25 lesbian characters met their deaths in short order, fulfilling the TV trope known as "bury your gays." Audiences were appalled by the consistent offing of non-heterosexual characters, so Andras did something she'd never done before; she dropped a major spoiler, publicly guaranteeing the two queer characters, Waverly Earp and Nicole Haught (a.k.a. #WayHaught), would survive the season. 
"In the LGBTQ community, especially among teenagers, there was a real sense of despair with young lesbians, in particular, seeing themselves get killed in exorbitant quantities," says Andras. "I thought it was really important to make it clear that we had trust with that community, which went a long way to winning some good will among our fans."
Giving 'em what they need vs. what they want
The show's networks seemed to get it too — never asking the writers to tone down the LGBTQ characters or the show's feminist outlook, in part, perhaps, because the show proved a hit in unexpected places, like the American south. But the plot reveal was something of an anomaly — ultimately the writers have never lost sight of the fact that the fans aren't the storytellers — they are.  
"The story has to be told in the context of who these characters are. That's my one rule. If you don't betray the audience through how the characters would react to a certain situation, mostly they'll stay with you," says Andras. 
Besides, as Yorke points out, it's important to distinguish between fans ("very vested followers") and audience ("the hundreds of thousands of viewers across various networks and platforms"), and making sure as writers to serve both. 
"The most satisfying things to put on screen are events that the fans/audience didn't even know they wanted," says Yorke. "It all comes down to basic good storytelling. Sometimes not giving the fans something they think they want, or giving them something even better than the thing they thought they wanted, can be the most satisfying creative decisions to make."  
That said, the show's fans are never far from the writers' minds. 
"Obviously we care about what the fans think," says Carbone, "and we read what they post…Fan engagement — especially at this level — is a two-way street. We can't take all the love and ignore the criticisms."
After three seasons, of course, criticism was inevitable, but Earpers' legendary goodwill has outstripped the negativity of naysayers and embraced new writers like Carbone. That embrace is due in no small part to Andras.
The personal touch
"To be honest," says Carbone, "all the things the writers worry about when engaging with the fans — being funny, being charming, being witty — the pressure is off because we know we're not gonna be nearly as charming or witty or hilarious as Emily. She is the queen of fan interaction and does it with an open heart and an energy I've never seen before. It's a huge part of why the fandom is what it is. They take their cues from her."
Andras has never expected Wynonna Earp writers, or any writers for that matter, to follow her lead when it comes to social media though. "Some showrunners say that being on Twitter is 'My nightmare and the story is my way of talking to the audience,' and I really support that. It's just another tool in your toolbox."
Yet another tool, at least for genre shows, is the phenomenon of the con. In Wynonna Earp's case, fans have created cons strictly for Earpers — Earp Fest in Lisbon, Earpercon UK and Eh Con Canada, for example. In 2018, the inaugural edition of Eh Con featured the entire Wynonna Earp writing room. 
"It made my heart swell to see these people behind the scenes, these awkward introverts like me celebrated," says Andras. "The con also showed an episode, and all the writers got to hear the response from the audience. To hear them gasping and cheering and yelling — I wish for every writer to get to watch their show with an engaged audience like that, it makes you realize the struggle was worth it."
More recently, at April's ClexaCon, (a "multi-fandom event for LGBTQ women & allies") a standing room-only Wynonna Earp panel saw more than a thousand fans attend, many of whom would no doubt identify with journalist/fan Liszewski's point of connection to the show. "Wynonna Earp reminds me of shows like Buffy that really spoke to me, changed my life, and got right into my heart," she admits. 
In Liszewski's case, the show changed her life so much so that she's become its primary media champion, teaming up with Kevin Bachelder and Bonnie Ferrar, (hosts of Wynonna Earp fan podcast Tales of the Black Badge) to create the website Fight for Wynonna, a rallying point for Earpers. And although the slow-moving financial machinations are daunting, Liszewski holds out hope for the show's continuation, saying the "real-life heroes" are the writers, cast and crew, adding that "as Waverly Earp says in season one, 'Heroes always win.'" 
Andras and her writers sure hope that's true. 
"We have a lot of typically nutty ideas for season four that we're ready to unleash," says Andras, adding that everyone is "more or less ready to go" if they get the greenlight. Of course, a fourth season would also be the best reward for Andras going public about what was going on when production was put on hold.
"My feelings [about being public] are complicated. We have a really wonderful team of producers behind the scenes … busting their butts trying to save the show. So, I think it's important to stay encouraging while also allowing them time to do their job. That being said, this show belongs to its fandom like no other I've ever seen, so I'm glad the Earpers became aware and were given the chance to help turn the tide … It's their show, too, and they have the right to try and save it while there's still a chance."
Right now, a happy ending is definitely in the offing.** On April 11, IDW tweeted its appreciation of fan support saying, "We love Wynonna just as much as everyone else, & have appreciated all of your support. Everyone involved with this show is working behind the scenes to bring back another season. We'll keep you updated when we have more to share."
 Whatever happens, one thing is beyond doubt: Wynonna Earp is a veritable phenom. In fact, truly grasping the hows and whys of its success may be a bit like "trying to catch lightning in a bottle" as Andras says. Still, there are Wynonna Earp lessons others might do well to heed. Carbone sums it up pithily: "If you don't love the shit out of the show you're making, the audience will be able to tell." And maybe another lesson is to encourage fans in their sense of ownership.
"It really feels like we all own the show, we're family," says Andras. "And at the end of the day, that's what anyone wants, for people to fall in love with your characters and the tale you're trying to tell. What a gift that is."
**Editor's Note: Wynonna Earp did get the greenlight for a fourth season on July 2, 2019 and will be headed into production later this year.