Through the eyes of a child
How co-writers Tracey Deer and Meredith Vuchnich scripted Deer's personal experiences of the Oka Crisis into the award-winning film Beans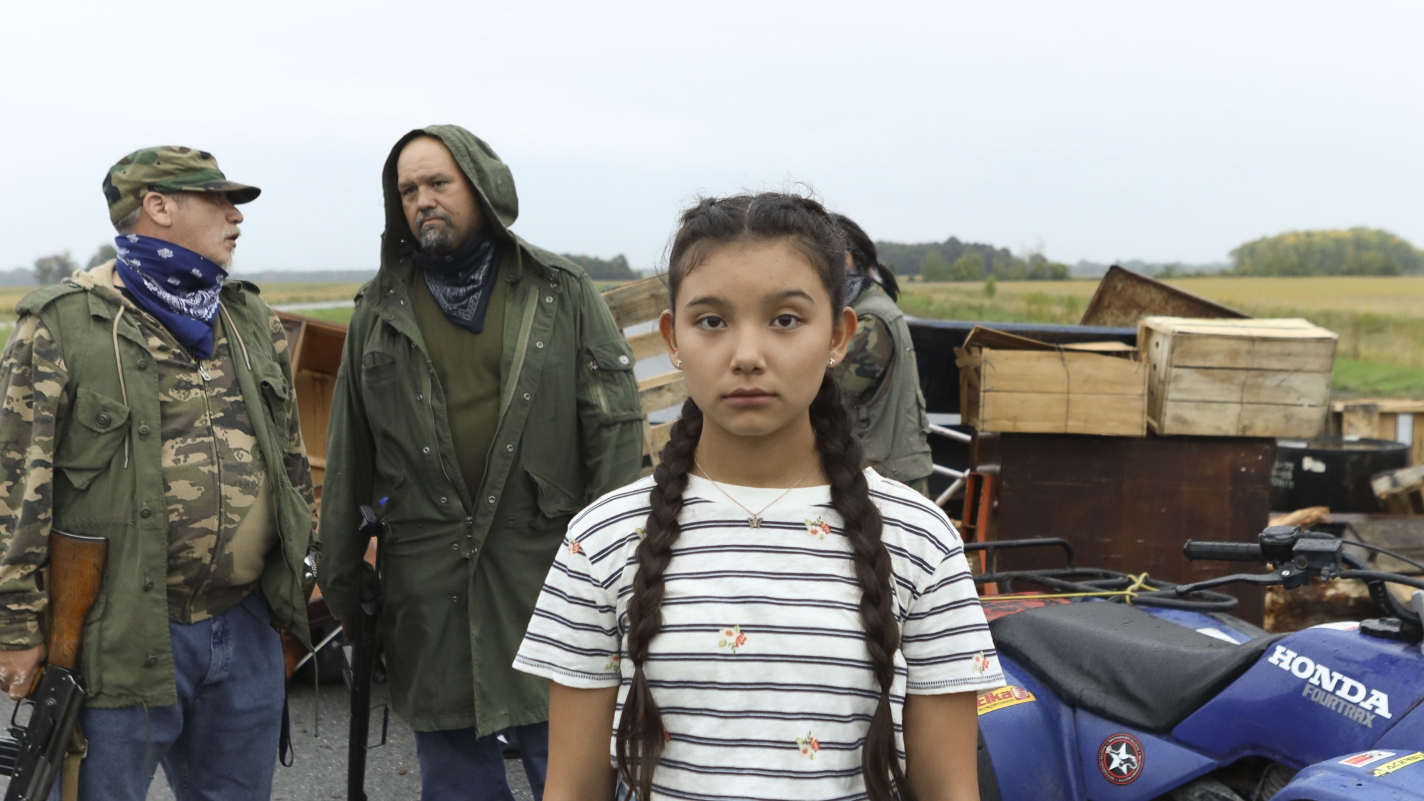 By Kelly Boutsalis
Face to Face — that now-iconic photograph taken during the 1990 Oka Crisis that depicts an Indigenous land defender and a Canadian soldier, standing toe-to-toe, eyes locked, tension permeating the atmosphere — has come to embody that violent 78-day standoff in one image. Of course, as the crisis unfolded between July 1 and Sept. 26 that year, much more was at play and it affected the lives of not only the adults living in and around Oka, Que., but also their children. But that story, told from the perspective of a child caught up in the crisis, was nowhere to be seen. And it's here that we find the centre of the award-winning feature film Beans — a coming-of-age film rooted within the extremely personal story of Mohawk writer-director Tracey Deer's lived experiences as a young girl during the Oka Crisis. 
As it turns out, it wasn't a straightforward process for Deer to turn her story into a workable script. 
Told from the point-of-view of a 12-year-old Mohawk girl, Tekehentahkhwa, known as Beans, the film's main character is just trying to figure out who she is, what her outward image should be, how to deal with crushes, and look cool, amidst the historic act of civil resistance being carried out by her community.
Beans, her younger sister Ruby, and parents Lily and Kania'Tariio, are thrust into the 1990 conflict between the Kanesatake and Kahnawake Mohawk people and the town of Oka. The Mohawk community made a stand to defend a forested area known as The Pines that included a cemetery, to stop it from being developed into a golf course and the conflict ensued. 
And eight years ago, Deer embarked on the screenplay, starting initially with an outline. Going it alone, while reliving her childhood trauma in vivid detail, however, proved to be just too much. 
Turning to TV techniques
"It was difficult for me to revisit those memories," recalls Deer. "The magnitude of telling a story that took place during the Oka Crisis was a lot, and I would get stuck in a creative spin loop. I'd feel a ton of resistance and fear, with a lot of my own self-sabotage going on."
Deer credits Beans' producer Anne-Marie Gélinas, founder of EMA Films, with guiding her out of that bad place. During one meeting, Gélinas asked Deer how she could help her get out of that loop. Looking at her experience co-showrunning APTN's Mohawk Girls at the time with Cynthia Knight, Deer suggested she would benefit from hiring a story editor.
"I was enjoying that partnership of two brains brainstorming and throwing ideas off of each other," says Deer, so for Beans she thought a story editor could serve that role. She'd met her eventual co-writer Meredith Vuchnich about five years prior, and she was Deer's first choice to join the project. 
In 2015, Vuchnich started on Beans as story editor, and a year later, Deer asked if she would co-write the film with her. Deer, based in Kahnawake in Quebec, and Vuchnich in Toronto, would talk over the phone to discuss big issues and themes like: What is it to be a mother? What would Lily be afraid of? What is Beans feeling here? Then they'd hash everything out, which reminded both of them of their TV writers' room experiences.
"We had talked it all out, so by the time you're writing it, it's easy because we've talked about this beat, and this beat," says Vuchnich. "You make discoveries as you write, but you're not making it all up, it's been in the talking of it."
In a time before zoom…
Each writer would work in their Final Draft file, and when Vuchnich finished her scenes, she'd pass them along to Deer, and vice versa, so that each would take a pass over the other's scenes. Deer held the master document that had both of their eyes on it. She laments the technology available now, eight years later, that facilitates co-writing from afar. "Describing our process now sounds basic and a bit cumbersome," she says.
And since Vuchnich came into the project a year into her recovery from back-to-back concussions, she had limitations on how much she could work, or even look at a screen. 
"It was so old-school that I would send her a scene, her husband would print it, and she would do a paper edit," says Deer. Vuchnich's husband would then enter the edits into the software. For the scenes Vuchnich was working on, she'd write something in the morning in longhand, and then rest. Her husband would again enter it into the computer.
"I'm working on stuff alone right now, and I miss the partnership and bouncing ideas off each other — it keeps the ball moving," says Vuchnich.
Deer, who has directed films and television series, says her writing style is rooted in her experience as a director. 
"I know where they're gonna go, and how Beans is going to show that she's sad versus the way [another character] would show it," she says. "I'm a functional writer, but I've read some writers who just make it sing on the page."
Vuchnich similarly approaches screenwriting as the creation of a map. "You don't say, 'The camera moves here,' but you do have to see it." 
For the tougher scenes that Deer was having a hard time with, Vuchnich would offer to write an "ugly first pass," putting characters and geography in place, and describing the scenes so that Deer could just go in and make it more genuine. 
"There was a lot in it I related to from my own life, but it is not my story," she says. "I always brought as much as I could, but Tracey had last pass and could change anything to make things authentic."
Eye on the child
Eventually the phone calls turned into in-person gatherings when the screenwriters participated in the TIFF Studio Program in 2017, bringing Deer to Toronto on a regular basis. In TIFF Studio sessions with Oscar-nominated screenwriter Christina Lazaridi, the feedback inspired the screenwriting duo to become brutal, says Deer, killing off characters, scenes and a lot of exposition about the Oka Crisis. 
A big breakthrough during the writing process, for Deer, was when she connected back to her 12-year-old self and remembered that she didn't have a full understanding of what was happening around her at that age, so the same would be the case for the Beans character. 
"Once we realized this is a story about a little girl, and we want people to live it through her eyes, then it's not as important to explain every single thing going on in the adult end of things," says Deer. 
As a former documentarian, Deer made the decision to use archival newscasts to provide enough context for the audience about the Oka Crisis, instead of fictionalizing it. It was an important decision that she hopes has a real impact on the audience. 
"I think if we stayed in the world of fiction the entire way, it would have been very easy for audiences to dismiss some of the ugly parts," says Deer. "I did not want to let audiences off the hook, I want them to leave the theater uncomfortable."
It was a decision that was questioned often at the script phase, having multiple funders and other people weighing in, who either insisted that it was a bad idea, or thought it was unnecessary. 
"Over and over again, I just said, 'trust me.' We didn't go through the archivals for the writing process, but I knew what existed and we wrote in placeholders, and I knew it was challenging to read it in a script and understand how it would work [on screen]," says Deer.
Everybody who'd been unsure of using real archival news footage, saw how it worked within the film in the screening of the first cut. It illustrated the journey the crisis underwent in the media's coverage of it. The archival footage from the early days of the resistance had a very different tone to when the conflict escalated, as neighbouring non-Indigenous communities turned violent and began doing things like throwing rocks at the Mohawk men, women and children.  
"That was another story we're telling, because we never broke POV," says Vuchnich. "Beans is in every scene, except to go to those archival moments where we gave a whole lot of information. And people never lost their emotional connection to Beans, because those pieces were so emotional in their own way."
Making the voice of their 12-year-old protagonist authentic meant that the two adult women writing her had to channel different sources for that voice. For Deer, it entailed recalling the voices of her 12-year-old self and other kids, and people from her childhood. The people in Beans' world aren't based on specific individuals, but Deer says that she would remember how the older kids talked, and how she was afraid of them, but desperately wanted to be like them. 
Vuchnich says that while writing the film, her daughters were around Beans' age, and that personal experience played into a lot of the scenes between Beans and her mother Lily. And where the film starts out with Lily and Beans visiting a potential private school, Vuchnich says that the same situation played out in her own childhood, visiting a private school with her own mom. 
In one memorable scene, Lily has to discipline Beans in front of her crush and her new friend, during an increasingly stressful situation.  
"We wrote it a million times. At the core of it is a mom who needs her kid to know how high the stakes are, but you also don't want to unleash all your worry and grief on them. But sometimes you do — and that's mothering," says Vuchnich.
Getting representation right
In terms of the parameters for what Vuchnich, a non-Indigenous writer, could or could not write in the script, Deer says that nothing was explicitly set out. She knew, just as with Mohawk Girls, which had number of non-Indigenous writers, that she'd have eyes on everything. So, whenever there was something that didn't work in terms of realistic dialogue or the way characters would move in her community, she would be able to correct it. 
"Meredith was completely open, and those were never conversations that we debated," says Deer. "The world has specific rules to it, and I happen to come from that world, so I know what those rules are."
An example that Vuchnich points to is a bullying scene that takes place at the beginning of the film. She took a crack at it, but Deer told her that it wasn't true to how it would happen. "There was definitely no question that I didn't have the authentic voice, it is definitely Tracey's community," says Vuchnich.
But it was extremely beneficial for their working relationship that Vuchnich built scenes and created dialogue, as Deer said she's better at editing than building from a blank page. 
"That feels way more attainable and less scary, frankly, to have something to respond to, and say, 'this works,' or 'this doesn't work,' or ask, 'how do we up the stakes on this?'" says Deer. 
She says that her writing on a lot of first drafts is very "Pollyanna, very afterschool special" and she'd send them to Vuchnich, who would ground them and remove the "cheese factor." 
In that first draft, they were building out from the outline, and when Deer was too busy working on Mohawk Girls, Vuchnich took the notes they'd received and would make a stab at the second draft. 
It was also helpful having two people for the notes process, says Vuchnich. "I have found in my career that people give notes because they see themselves in your work, which is amazing, but then they try to shape it into something that's more their experience," she says. "When there's only one of you, you can get bowled over and doubt yourself."
She says while they were both open to taking notes and making the script better, that Deer had a quick gut reaction, and knew which notes they should apply and which ones wouldn't work. 
A world ready for Indigenous storytelling
It took a long time for Beans to move from page to screen. But for it be completed at a time when Indigenous news has never been more prominent, is fated, says Deer. 
"I do think that the world, and Canadians in particular, are now open to receive this story. Whereas, if we had finished it and put it out five years ago, I don't know if people would have been ready and open to take in this message."
She's also encouraged by the future for stories like Beans. "There's an explosion happening in the most wonderful way in terms of Indigenous cinema and Indigenous storytelling in the TV medium," says Deer. "I am seeing so many emerging filmmakers and storytellers, and the talent coming up is so exciting."
Deer contends that a thread running through her career is that the fictional 12-year-old girl at the centre of the film, as well as her 12-year-old self, just needed to be seen, heard and understood. That's something that was at the core of that Indigenous resistance, and those past and current Indigenous expressions of it. "If those things were there, I don't think that the violence that was put upon us would have happened," she says. "I realized recently that all of my work is in pursuit of building these bridges, so that something like the Oka Crisis never happens again."
She wants non-Indigenous people watching Beans to be active allies to Indigenous people, in making this country a better place for Indigenous kids. 
"This was my coming-of-age story, and it led to a very dark adolescence that I almost didn't come out of," says Deer.
"That is not how our children should be learning about who they are, and understanding what their future can hold for them. I want us to do way better for our kids. I want safety, opportunity, hope and dreams for our kids, just like all other Canadian kids have.
"We as a people, so much of our energy is focused on surviving, and I want our energy focused on thriving," she continues. "That's what I want a non-Indigenous audience to get from it, but everything I do is for an Indigenous audience, as well. And I hope that by sharing this story of this little girl, we all feel seen and heard."
Kelly Boutsalis is a freelance writer and she's written about film and television for NOW Magazine, Elle Canada, Flare and POV Magazine. Originally from the Six Nations reserve, she lives in Toronto.
Clarification: In the original print version of this story, the pull quote attributed to Tracey Deer should have read "The magnitude of telling a story that took place during the Oka Crisis was a lot, and I would get stuck in a creative spin loop" and not "in Oka..." Canadian Screenwriter regrets the error.