WGC Screenwriting Awards 2021
Here are the 2021 winners in their own words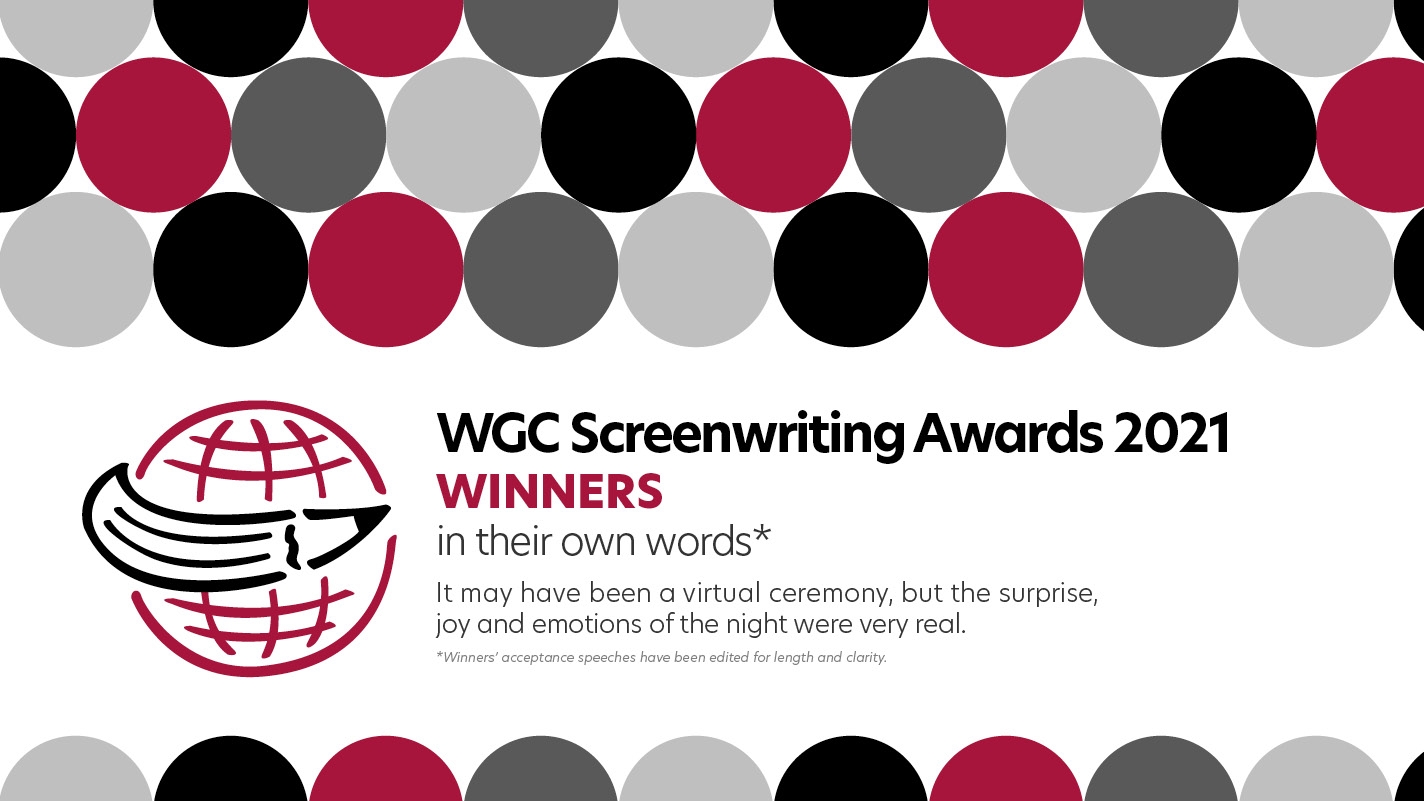 *Acceptance speeches from the WGC Screenwriting Awards ceremony held on April 26, 2021 have been edited for clarity and length.
WGC SHOWRUNNER AWARD
Presented to Morwyn Brebner
When I first started working in TV … I became very competitive, and that goes to the ethos of making TV. You suck it up. You work until you drop. And you rise. Terrence McNally the playwright said everyone in this business is a killer. And that's true. If you're able to keep going in this business, then there's something of a shark to you. And I include myself in this. At a certain point, if you're a shark, your only companion on your journey is going to be a remora. If we go through the world in that way, not seeing other people fully and not letting them fully be themselves, or letting ideas that are new express themselves in new ways, we're going to be fucked. Either everyone is a person, or no one is. 
I used to prize my own journey and success. I've come to think of this very differently. I've come to believe deeply that representation matters. Anyone who's got privilege, you can use it bring someone up. I believe in having a safe writing room. The streets aren't safe for our BIPOC brothers and sisters. The air isn't safe. We need to be safe for each other. And yet our Canadian industry is contracting, apocalyptically. The streamers are coming in with their giant invisible hands to shake up our little Christmas tree. We are no longer making enough episodes of Canadian TV to sustain our ecosystem. Even so, I believe we have to fight to get our junior and mid-level writers into prep and on-set. We need to bring up and promote the next generation of diverse showrunners … We need to continue to fight for each other with solidarity even as a scarcity mentality sets in and we agitate for our own futures. As writers, we are flowers. We eat the sun. We make something out of nothing — out of vibrations that only we can see. As screenwriters we hope to have many jobs, but our jobs are not our work, which is to meet the moment with whatever we have, and grow. Thank you for this beautiful, beautiful honour.
CHILDREN'S
Odd Squad Mobile Unit, "Slow Your Roll"
Written by Mark De Angelis
This is my first ever WGC Award. I'm flattered and honoured. Thank you to the WGC community. I'd also like to thank my fellow nominees. Tim and Adam, the creators of the show, all the writers who worked on the show and Sinking Ship for supporting us. And in a weird way, today is the one-year anniversary of my grandmother's passing, and I know that she would want you all to know that she had everything to do with this! Thank you.
COMEDY SERIES
Schitt's Creek, "Happy Ending"
Written by Daniel Levy
I wanted to thank in particular, David West Read, Rupinder Gill and Winter Tekenos-Levy for their work over the past six seasons on the show, and doing such a damn good job of helping to steer this ship with me. Thank you to the Writers Guild of Canada for championing our show and thank you to all of you for watching. Here's hoping that we can continue this adventure we're all on and continue to bring Canadian talent, Canadian writers into the spotlight in a bigger way and celebrate all that we have to offer — because we do have so much to offer.  
DOCUMENTARY
Still Standing, "Rankin Inlet"
Written by Jonny Harris, Fraser Young, Graham Chittenden, Steve Dylan
Jonny Harris: Thanks so much. We were just thrilled. This was our first WGC Award and nomination and we were all pretty thrilled when we got the word. It's wonderful to be recognized by peers who know how great and grievous it can be to write content for television …
DRAMA SERIES
Trickster, "Episode 105"
Story by Michelle Latimer and Tony Elliott and Penny Gummerson, 
Teleplay by Penny Gummerson
Penny Gummerson: I'm humbled and honoured to be recognized by my fellow writers. And to the nominees, I'm in awe of your talent. It's a truly a privilege and an honour to be able to tell stories for a living. It's a privilege to sit in a room full of writers who would generously share their personal stories, some funny, some painful, to help make the stories we're telling on-screen that much more real and authentic. I recently talked to an elder who calls our personal stories and memories our knowings, and that landed deeply for me. So, thank you for sharing your knowings. To be able to work on a series that invites viewers into a world of family and love, a world of heartache and healing, a world of Indigenous culture and language and humour — it was a true gift … to the young writers out there, especially young Indigenous writers, our stories matter, your voice matters, share your knowings with the world. Don't be afraid to write who you are. 
FEATURE FILM
Beans
Written by Tracey Deer & Meredith Vuchnich
Tracey Deer: Thank you so much. This is an incredible honour… I want to give a big shout out to Kanesatake and Kahnawake, who exemplify resilence and strength and really inspired this whole story. And to Meredith Vuchnich, my cowriter, who made it safe for me to be vulnerable and made it possible for this story to come to life. 
Meredith Vuchnich: I'd like to thank my agents who introduced me to Tracey 10 years ago … the WGC for fighting for writers and sending us to the dentist, in equal measure ... And finally, Tracey Deer. Thank you for trusting me enough to put your heart open and tell your story and let me help you bring this into the world. I'm so proud of you and so grateful to be part of this project, and I can't plead with you all enough to go see this movie when we can gather again. 
JIM BURT SCREENWRITING PRIZE
Magnificent
Written by Travis McDonald
Thanks to the jury and Jim Burt and his legacy. I'm very honoured to be getting this prize. This is a story I've had with me since I was a kid. I vividly remember having a conversation about it with my dad when I was about 10 years old. It's not a personal story, but the telling of it has been personal, and it's a way for me to spend time with my dad, so many years after losing him. And I'm just very touched and sincerely appreciative of the recognition.
MOW & MINISERIES
Gourmet Detective: Roux the Day 
Written by Becky Southwell & Dylan Neal
Dylan Neal: This is fantastic. We would like to thank Michelle Vicary and Randy Pope at Hallmark and Joe Rice and Michael Prupas at Muse Entertainment. We've worked with those four people for six to seven years now… and we just had a really great run with the Gourmet Detective. This is our second nomination for that franchise. We really appreciate this. And I have to thank my beautiful and talented wife, who is the brains behind the operation. I'm just really riding on her coattails.
PRESCHOOL
Dino Dana, "The Sound of Dinosaurs" 
Written by J.J. Johnson
Christin Simms on behalf of J.J. Johnson: Thank you to the Writers Guild, fellow nominees and everyone who voted for J.J., not for me, but that's fine. I just wanted to say that Dino Dana is a show that was created to challenge the representation of girls in kids TV. This is a show for girls who don't let anything stop them. And I want to say a big thank you to the cast and crew, TVO Kids, especially Marney, Amazon, Yoopa, Shaw Rocket Prize and everyone at Sinking Ship for helping us make a show about fearless and unstoppable girls who love action-adventure, dinosaurs and science. Dinosaurs are for girls too!
SHORTS & WEB SERIES
Try to Fly
Written by Simone Swan & The Affolter Brothers
Thomas Affolter: Thanks so much to the Writers Guild for this award. A big shoutout to CBC, Sheila Peacock and Paige Murray, they brought it to life. It wouldn't have happened without CBC funding and now it's on Gem. This was supposed to be a personal story where we poured all of our insecurities and anxieties on screen, and hoped that because it was personal to us, it would be relatable to other people. 
SONDRA KELLY AWARD (co-presented by AFBS)
Presented to Kate Hewlett
Thank you so much. This is also fulfilling my lifelong dream of bringing my cats to an award show … I wanted to thank the WGC for choosing this project and not the one I submitted last year, which was quite awkward. I am prouder of this one. I'd like to thank Sondra Kelly, who I never met, but she sounds like a truly amazing person. And I recently learned that she wrote on two shows that my brother did, so she must have been extremely patient. I wanted to thank Lara Azzopardi and Larysa Kondracki, who have written me letters for every time I've applied for this award. This story, Everything is Funny, is based on my oldest sister and I asked her permission to speak about her tonight … 
TWEENS & TEENS
Utopia Falls, "The World is Yours" 
Written by Joseph Mallozzi & R.T. Thorne
R.T. Thorne: A big, big shoutout to the WGC. Thanks for this recognition and an equally big shoutout to my brother in arms, Joe Mallozzi. I thank you, brother. I learned so much from you. And thank you for helping me to build out this universe, it's pretty incredible. I also want to definitely thank our entire amazing writers' room. Sonar Entertainment for taking a shot on a wild hip-hop sci-fi idea like you did … It's an incredible honour to be able to tell stories of marginalized young people in the future, so that they can see themselves now and know they're important. Thank you so much for the honour. I appreciate you all.